Senior Housing News Business information and analysis about Seniors Housing Home News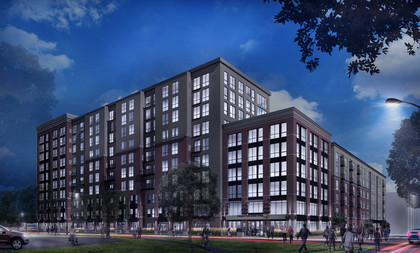 The largest senior living operator in Minnesota is pushing forward with new intergenerational projects meant to foster interaction between older adults and kids, exemplifying a rising industry trend.
Ebenezer is working with developer Oppidan Investment Company on a 283-unit independent living, assisted living and memory care community on the provider's home turf of Minneapolis. As planned, The Pillars of Prospect Park will have amenities such as a club room, chapel, theater, fitness center with golf simulator, roof deck, bistro, and a salon and spa.
The provider's newest project will also come with one component most senior living communities don't have: an on-site childcare center with room for 100 kids ranging in age from infant to pre-kindergarten. Ebenezer expects that Some of the community's residents will act as volunteer "grandfriends" and help play with and educate the littler ones.
The concept is meant to help give seniors an added degree of purpose according to Jody Schumann, Ebenezer's director of child care.
"With the old and the young together, they share a sense of being," Schumann told Senior Housing News. "[Residents'] sense of nurturing comes out. The children make them feel needed."
The shared-campus community under construction in Minneapolis is one of two such projects in the works for the senior living provider, with another planned in Chanhassen, Minnesota. Ebenezer also has two additional intergenerational communities, with one in Burnsville, and the other in St. Louis Park, Minnesota.
Ebenezer, which is part of Fairview Health Services, currently has 90 owned and managed communities in operation or under construction. The company focuses on a wide variety of services, including independent living, assisted living, memory care, transitional care, care centers, enhanced care, adult day programs, child care, intergenerational programs and stay-by-the-day apartments.
'They light up and let go'
Residents of The Pillars of Prospect Park will have plenty of opportunities to nurture, read, play games, bake cookies or just be with the kids. A typical event or outing might include dozens of kids and just as many older adults.
"When you see the seniors … be young and do these things that children do, they light up and they let go," Schumann explained. "And they become teachers."
Even residents who don't have a background of caring for children can find common ground. Schumann shared the story of one Ebenezer resident sitting down with a child for a "pudding painting" activity—that is, the act of smearing pudding on a table with your bare hands. While the man was wary of the messy activity at first, that changed relatively quickly.
"Pretty soon, he and the child were having this magical experience," Schumann said. "We've seen that many, many times throughout the years."
While the kids are able to help seniors rediscover their inner child, residents are able to teach them about respect, patience, empathy and compassion, Schumann said.
"[The kids] aren't scared of oxygen tubes, wheelchairs, or holding the frail hand of a senior," she added.
Sharing space
Ebenezer is far from the only senior living provider looking to facilitate interactions between the old and the young. Villa Gardens, a Front Porch continuing care retirement community (CCRC) in Pasadena, California, organizes education-focused summer camps with local kids, for example.
According to a recent study coordinated by Generations United and Ohio State University and supported by the Eisner Foundation, there are at least 105 "shared site" programs in the country. Those programs range in scope, from college students sharing space with older adults to retirement communities with attached preschool or day care facilities.
The report also includes an online survey of more than 2,000 adults conducted online by The Harris Poll between February and March.
Although only 26% of Americans are aware of places that care for older adults and kids, there is great interest for more such programs. In fact, 89% of those surveyed said that serving both age groups at the same location was "a good use of resources."
Additionally, 85% of those surveyed said that, if they needed care services, they would want a setting with opportunities to interact with people of different ages. Slightly more (86%) of those surveyed said they'd want the same thing for a loved one in the event that loved one needed care services.
"While far from a household name, shared sites may well be a concept whose time is now," noted the authors of the Generations United and the Eisner Foundation report. "There's a convergence of opportunity at hand, brought about by a variety of factors including the demand for quality children and youth services, the need for creative older adult programs and limited local, state, and national resources for construction and rehabilitation of facilities."
For more information visit: The Pillars of Prospect Park