Oppidan Starting Development of Prospect Park's First Senior Living Community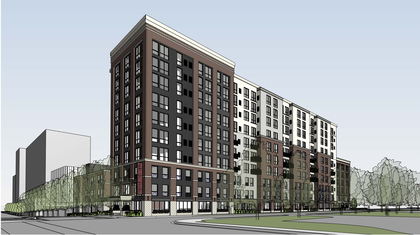 Wednesday, February 14, 2018
Oppidan Starting Development of Prospect Park's First Senior Living Community
Will include intergenerational programming to benefit children and "grandfriends"
Minneapolis – (February 13, 2018) – Oppidan Investment Company, a national property development firm headquartered in Excelsior, Minn., is developing the first senior living community in the Prospect Park neighborhood. Located at 22 Malcolm Ave. SE, Minneapolis, Minn., 55414, this new 340,000-square-foot senior living community will offer 283 apartments with independent living, assisted living and memory care options. An additional 1,900 square feet will be built around a retail tenant (yet to be determined) and 6,230 square feet will be designated for a daycare serving 100 children ranging from infant to pre-K and will include indoor/outdoor playgrounds.
Unique to this community will be its intergenerational programming. The "grandfriends" who live in the community will have meaningful opportunities to engage with the younger daycare children through play and activities. Additionally, its proximity to the University of Minnesota will allow special collaborations with university students, including learning, research, internships and career opportunities related to senior living and health care.
"Intergenerational programs are invaluable to the students, children and older adults who participate," said Shannon Rusk, Oppidan VP of Development. "Seniors draw from the energy of the children and the children benefit immensely from the love and wisdom of the seniors. We are delighted to offer this programming in our newest community at Prospect Park."
The new senior living community will also boast all the comforts of home, including a club room, chapel, theater, fitness center with golf simulator, roof deck, bistro, salon/spa and in-unit washer/dryer, stainless steel appliances, granite counters, walk-in closets, balconies (for most units) and underground parking. Units will also feature oversized windows to capture views of the Minneapolis skyline.
Oppidan expects to break ground in May 2018 and complete the project by the first quarter of 2020.
The project's general contractor is Weis Builders and the architect is Tushie Montgomery.
Upon completion, the senior living community and daycare will be managed by Ebenezer Management Services, the largest senior housing operator in the state. This is the fifth joint project between Oppidan and Ebenezer. Other properties include White Bear Heights, Highlands of St. Paul, Shorewood Landing, and a new community in Mankato.
For more information, visit: The Pillars of Prospect Park
###
About Oppidan
Since 1991, Oppidan Investment Company has been providing development, construction and project management, asset management, and brokerage services to the retail, industrial, commercial, residential, senior housing and mixed-use markets. The firm has successfully developed more than 450 projects spanning a total of 15.8 million-square feet in 35 states and Canada with a total value of more than $3.0 billion. Oppidan's client list includes Duluth Trading Company, Ebenezer, Northern Tool, Camping World, Cub, Sprouts, GE Oil & Gas, Goodwill, Orchard Supply Hardware, and more. To learn more about Oppidan, visit www.oppidan.com.
About Ebenezer Management Services
Ebenezer Management Services (www.ebenezermanagementservices.com) is Minnesota's largest senior housing operator. Part of Fairview Health Services, Ebenezer Management Services develops, consults and provides management, sales and marketing services to more than 91 senior communities throughout Minnesota and Iowa.