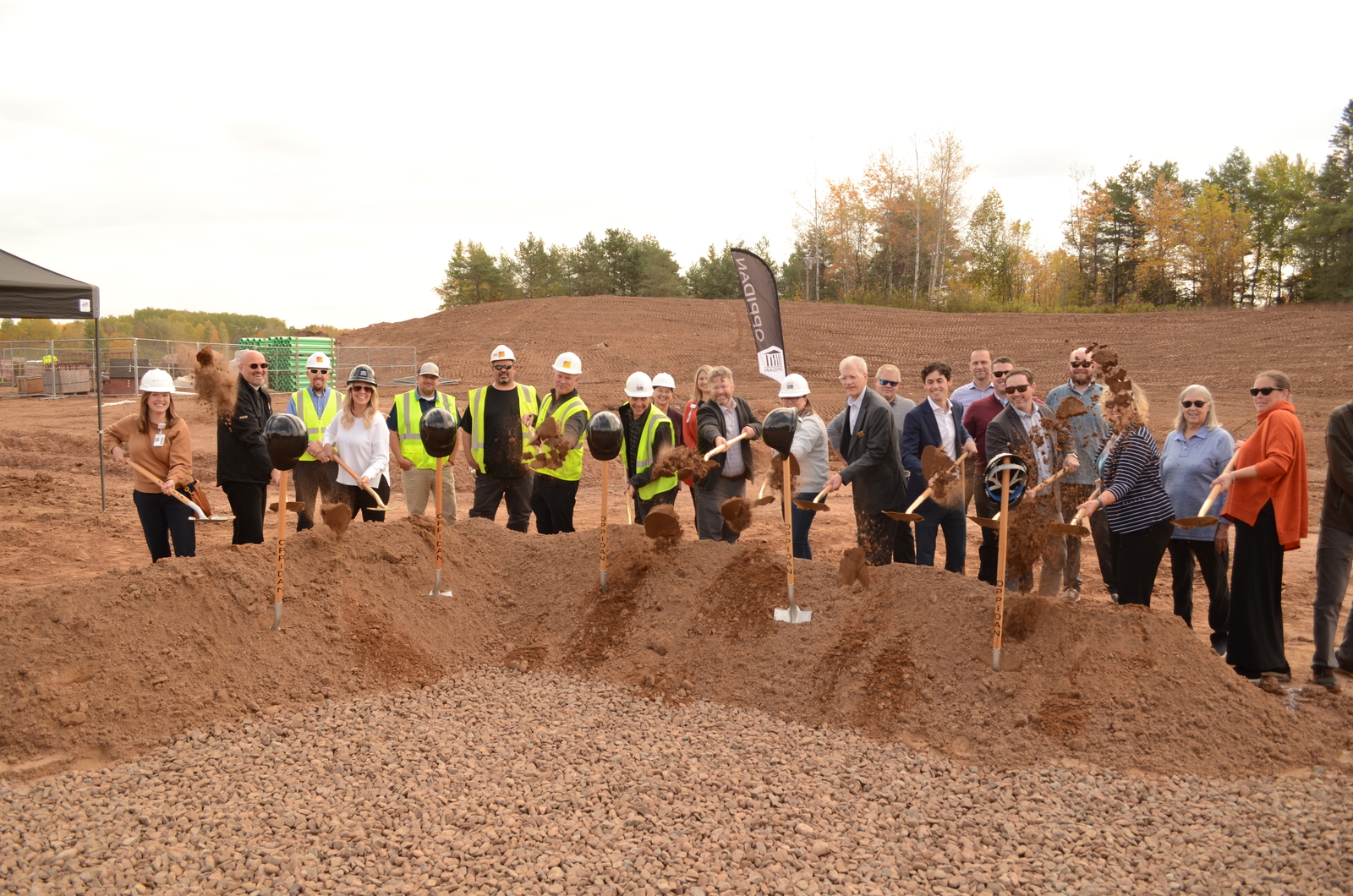 Oppidan breaks ground on senior living community in Hermantown
Oppidan breaks ground on senior living community in Hermantown
Becomes Oppidan's eighth Pillars Senior Community developed in Minnesota
Minneapolis, Minn. – (October 5, 2022) – Oppidan Investment Company, a national property development firm headquartered in Excelsior, Minn., is breaking ground on its newest senior living community in Hermantown, Minn. The Pillars of Hermantown (4110 Lavaque Road, Hermantown, Minn.) is the eighth in Oppidan's portfolio of Pillars senior living communities, with additional Pillars communities in Lakeville, Grand Rapids, Mankato, and Minneapolis. Oppidan has also developed The Watermark at Napa Valley, The Hacienda Mission San Luis Rey, and Clearwater at Newport Beach in California. Ebenezer Management Services, Minnesota's largest senior living operator, will manage The Pillars of Hermantown.
The 140,000 square foot building will offer 105 apartments including independent living, assisted living and memory care. Amenities at The Pillars of Hermantown include a salon, theater, chapel, fitness center, sauna, community room, sun room and deck, pub, pickleball court, and private dining room available for special events. Residents will enjoy life-long learning programs, intergenerational activities, faith formations, chef-prepared culinary specialties, and personal health care services, as needed.
Construction is expected to be completed in the Q1 of 2024.
"This elegant community will be located in the heart of Hermantown and minutes from amenities in Duluth, giving residents wonderful access to shopping, entertainment and the north shore," said Shannon Rusk, Oppidan Senior Vice President of Development. "We're proud to provide such a beautiful community for seniors to age gracefully."
As part of its commitment to enriching the lives of those living with memory loss, Oppidan is devoting specific attention to memory care residents. The Pillars name is inspired by the Pillars Fund, which Oppidan created in 2016 to help immerse memory care residents in more than 50 enriching programs through activities and other therapies that stimulate and engage residents. Oppidan has pledged $400,000 to the Pillars Fund to-date.
Since 1991, Oppidan has continued to command attention in the commercial development industry, working with clients such as Duluth Trading Company, Ebenezer Management Services, Watermark Retirement Communities, Northern Tool + Equipment, Caliber Collison, and Supervalu, among many others.
The project's general contractor Is Johnson Wilson Constructors, the civil engineer is JPJ Engineering, the architect is Kaas Wilson Architects and the interior designer is BDH.