Oppidan Breaks Ground on Mixed-Use Development at 46th and Hiawatha Includes grocery store, retail a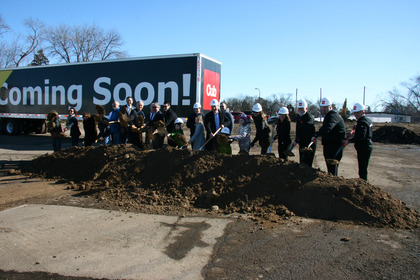 Thursday, March 15, 2018
Mary Prevost, MJP Strategic Communications
Minneapolis – (March 15, 2018) – Oppidan Investment Company, a national property development firm headquartered in Excelsior, Minn., broke ground today on a transit-orientated, mixed-use development. The development will include 148 market-rate apartments, a 45,000 SF grocery store, 3,000 SF of small-shop retail, and a large public plaza.
Additionally, the development serves as the "pilot" phase of the MN hi-line, a pedestrian path and linear park that will eventually provide connectivity from Minnehaha Park all the way to the Midtown Greenway. This pilot project will be constructed on a section of former railroad right-of-way now owned by the City of Minneapolis.
"This area of Minneapolis has experienced exciting growth with higher-density residential projects, due in part to its proximity to downtown, MSP Airport, the Blue Line light rail, bike trails and Minnehaha Regional Park," said Drew Johnson/VP of development. "However, the neighborhood does not have a full-serve grocery store to complement this residential growth. When this project opens, over 10,000 people will be within a 10-minute walk of this store."
On hand at the ground-breaking ceremony today included Minneapolis Council Member Ward 12 Andrew Johnson, Hennepin County Commissioner Peter McLaughlin, Minnesota Hi Line Coalition Founder Cora Peterson, and Cub Foods President of Operations Chad Ferguson.
"You couldn't pick a better location," said Andrew Johnson, Minneapolis Council Member – Ward 12. "It's across the street from the busiest park in the state, on LRT and BRT lines with several prominent bike paths nearby, and a short walk to Minnehaha Creek and the Mississippi River."
The grocery should open in the spring of 2019 and the apartments will open early summer of 2019.
The project's general contractor is Anderson Companies and the architect is Pope.
For more information on this project, visit 46th & Hiawatha - Mixed-Use Development