Type / Area
Retail - 102,278.00 sq. ft.
Oppidan has developed a Gander Mountain and a Camping World in Bowling Green, KY. The buildings are located between I-65 and Greenwood Lane. The total square footage of the two buildings is 102,278 sq. ft.
This is Gander and Camping World's first combined building!
0:21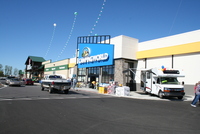 2 Images