The Pillars of Prospect Park Unveils Redesigned Apartment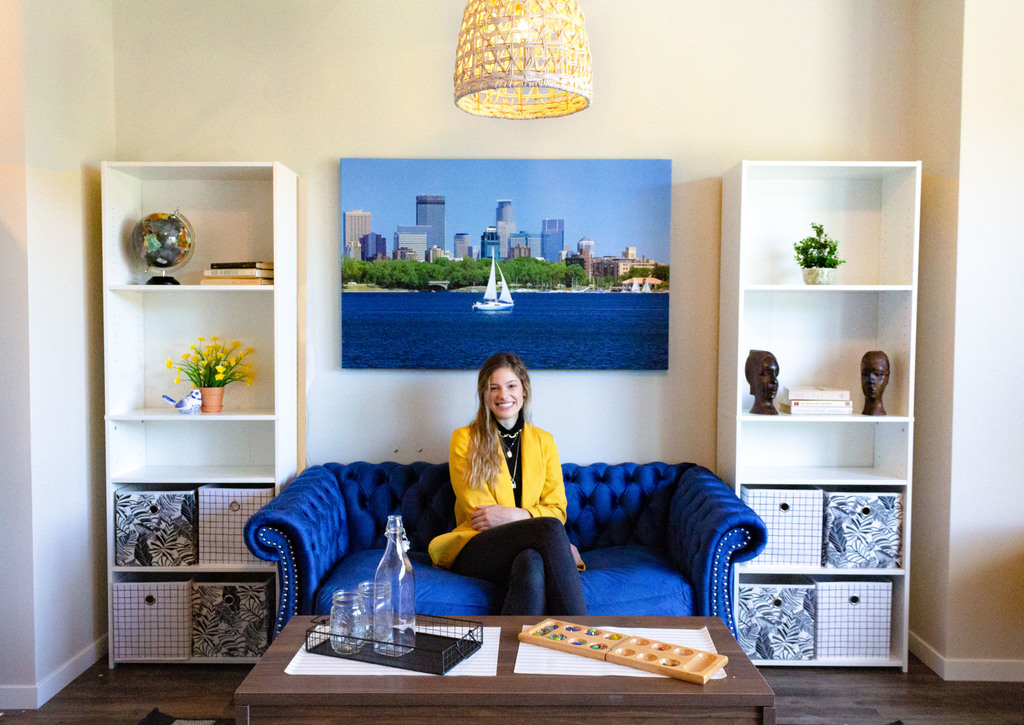 Wednesday, September 16, 2020
A NEW LOOK AT SENIOR LIVING: THE PILLARS OF PROSPECT PARK UNVEILS REDESIGNED APARTMENT FROM SMALL SPACE DESIGN CHALLENGE
University of Minnesota College of Design student named winner of Small Space Design Challenge for independent living or assisted living apartment
Minneapolis, Minn. – September 16, 2020 – Small spaces are a trend that isn't going away. We've seen it in everything from tiny homes, to the decluttering phenomenon, and even in the Hygge obsession. For seniors, it's no different. As older adults age gracefully and make the decision to sell their homes and downsize into a senior housing community, they also have to make the difficult decision of determining which of their belongings come with them to further enrich their lives in their new home.
One thing we've learned from this small space trend is that small spaces present giant opportunities for rich design. The Pillars of Prospect Park, the newest senior housing community near downtown Minneapolis, took this concept a step further and created the Small Space Design Challenge, a juried design competition among interior designers to develop an interior plan for a senior living studio apartment. The jury selected fourth year design student at the University of Minnesota College of Design, Rachel Kadidlo, as the winner of the Pillars of Prospect Park Small Space Design Challenge with her design named "The Urban Cabin."
This new apartment will be the home to a senior residing in our independent living or assisted living apartments at The Pillars of Prospect Park. This new apartment is intended to show seniors in independent living or assisted living how a small space can be designed efficiently, yet still meet the functions of all of their daily needs.
"It's clear just by looking at The Pillars of Prospect Park that the community is vibrant, and so are the residents within," said Kadidlo. "I wanted to offer elements that enhance this energy and add a playful, sophisticated approach to the overall design."
Kadidlo describes her design as both a modern and sophisticated aesthetic, paired with local art that creates a sense of community. She started with residential/cabin interior materials to complement the existing building's style. Wood, wicker and metal design elements take center stage and are paired with eye-catching yellow and royal blue to give these traditional materials an urban and modern twist. Kadidlo throws in a black and white plaid pattern to close the gap between the "urban" and "cabin" materials to add a uniquely Minnesota flare.
Knowing her specific audience, Kadidlo took the design a step further with her nods to small spaces. She purposely selected pieces that were both eye-catching, easily moveable and multi-purposed, including an eye-catching coffee table that raises to convert into a dining table, wicker chairs that were easily moved into place when visitors arrive, a desk that folds to save space, and carts that can be used at the couch or to move heavy objects from room-to-room.
"Making the furniture easily movable and rearrangeable gave the small space more flexibility and allows seniors room for personalization," said Kadidlo. "By defining a material pallet to build off of, you can create a hierarchy in the room which keeps it from feeling too overcrowded as a small space."
To enter The Pillars of Prospect Park Small Space Design Challenge, designers were challenged to develop a $4,500 interior plan for a senior living studio apartment. A jury rated each entry on its creative use of space and storage solutions, accessibility for seniors who may use walkers or wheelchairs, design elements that use furniture and décor to create a warm and user-friendly environment for the residents and their guests, inclusion of a work/game space, and innovative design features.
The Pillars of Prospect Park senior living community opened in May and includes 283 units offering seniors a choice of independent living, assisted living or memory care. Located near the University of Minnesota Minneapolis campus, The Pillars of Prospect Park provides seniors with elegant living options in an urban oasis. Oppidan Investment Company, a national property development firm headquartered in Excelsior, Minn., is the developer of five Pillars Senior Living Communities throughout Minnesota. Ebenezer Management Services, the largest senior living operator in the Minnesota, is the management company for The Pillars Senior Living Communities.
"Rachel absolutely captured the essence of The Pillars of Prospect Park in her design and we're so thrilled with the results," said Rebecca Bollig, Executive Director at The Pillars of Prospect Park. "We know our location nestled in such an urban setting is attractive to seniors who desire an active lifestyle full of life-enriching experiences. We wanted their apartments to capture this essence, too."
"At the University of Minnesota College of Design, we strive to teach our students to be creative and also the importance of being active in the community around you," said Abimbola Asojo, Associate Dean for Research, Creative Scholarship and Engagement, University of Minnesota College of Design. "We're extremely proud of Rachel for winning the Small Space Design Challenge and producing such a thoughtful and elegant apartment that anyone would love to call home."
For more information, visit The Pillars of Prospect Park