Shorewood Landing, new senior living center, honors the city's history in more ways than one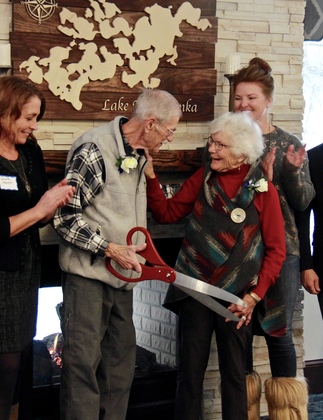 SHOREWOOD — Charlie Jerabek, a resident of Shorewood Landing Senior Living, had lived in Montana for decades before deciding to move home to his native city of Shorewood for senior care.
"I thought to myself: Why not go back to where everything started?'" Jerabek said.
His grandparents had lived on Christmas Lake, his family was buried close by, and he was still close with his high school graduation class, further motivating him to return to his hometown.
Jerabek was among the first class to graduate from Minnetonka High School in 1957, and he and his football buddies stayed in contact over the years.
After he moved in, employees at Shorewood Landing offered to help Jerabek host a class reunion and he took them up on it.
On Saturday, Jan. 6, the class reunion was held at Shorewood Landing. Twenty people gathered to snack and chat. Over 60 years had passed since they graduated high school together.
They stay up to date on one another's lives frequently, said Rose Doherty, outreach and sales director at the landing. When Jerabek's friends heard he would return to Shorewood to live at Shorewood Landing, several visited to check out the building, she said.
Landing home
Shorewood Landing held its ribbon-cutting ceremony Tuesday, Jan. 11. The site promises independent, assisted and memory care living options. Currently, 17 rooms are filled of the 105 built.
Oppidan was the Excelsior-based development company behind the landing, and Ebenezer the care provider. Ebenezer is a part of Fairview Health Services, which makes senior care fluid, Ebenezer CEO Mark Thomas said.
"We're a seamless system," Thomas said. "It helps a lot to have all these connections in the system."
The building is along Highway 7, at 6000 Chaska Road on a 3.67-acre lot, across from Our Savior Lutheran Church.
Kathy Snider, one of the first residents to sign up for living in Shorewood Landing, said she appreciates the design of the building.
"You walk into the building, and immediately there's space and light," she said.
What she's most grateful for, though, is that each time she comes in the front doors, there's always someone to talk with, or a group of people assembled to play bridge with.
The final design, she said, gave back to the lot and to the city.