Seniors living complex with baseball views rising in north Napa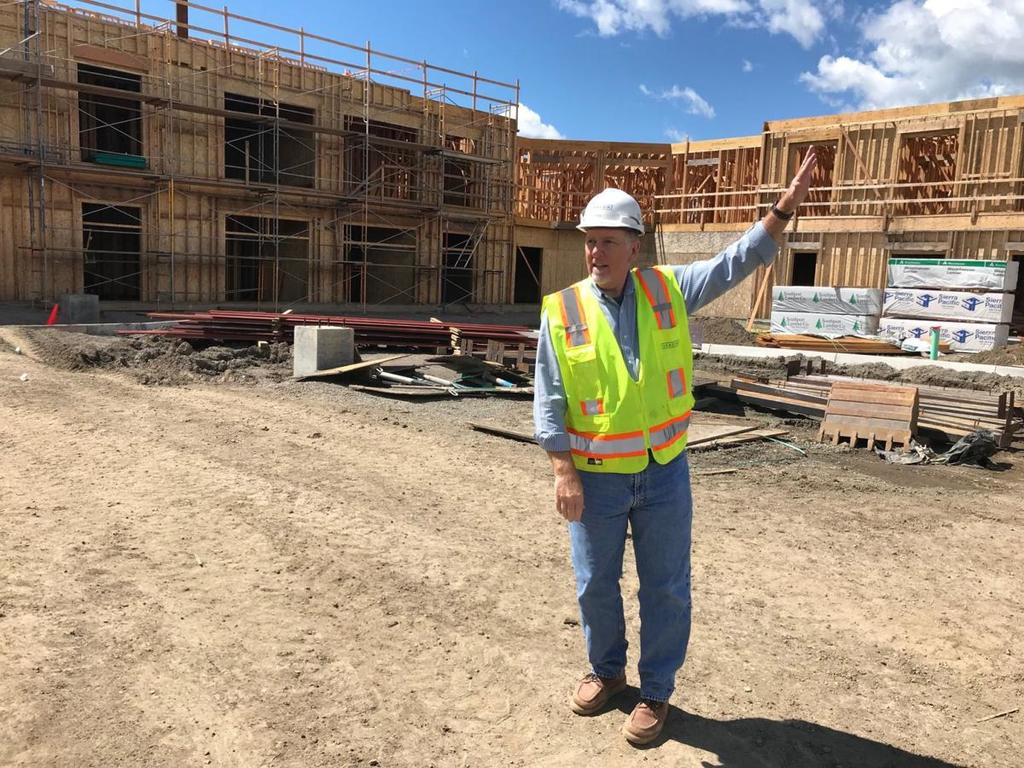 Seniors living complex with baseball views rising in north Napa
If its future residents happen to like baseball, then those living at Napa's new Watermark retirement living community should like the view from the third floor.
With some apartments overlooking the baseball field at Justin-Siena High School, anyone who lives on the south end of the complex will have ready-made seats to watch high school baseball from the comfort of their own homes.
Construction of 173 future homes for Napa seniors is well underway, as workers make steady progress on the new senior community at 4055 Solano Ave.
The Watermark at Napa Valley occupies a 5.8-acre parcel owned by Justin-Siena, a private Catholic academy that has sought to build out the land to raise funds for tuition support and campus upgrades. The campus totals 40 acres.
During a tour on Tuesday, workers were seen throughout the complex, as framing on the 195,000-square-foot project has now reached the third floor.
Bryan Holt, senior project manager from Deacon Construction, said that winter rains had impacted the building schedule, but once the rains are done, "the pace will pick up."
Construction began in early 2018. Residents could be moving in as soon as spring of 2020.
The 173 homes are divided into three groups: 80 units for independent living, 71 for assisted living homes and 22 for memory care.
The Watermark at Napa Valley "will be a stylish senior living and wellness community inspired by California's big skies and natural, full light, the area's well regarded food and wine culture and the celebrated bountiful and active lifestyle," said Andrea Ellen, Watermark managing director.
The complex will offer Watermark Retirement Living's "signature transformative programs that support not only residents' physical and intellectual health but also their emotional and spiritual well-being," said a news release.
Watermark will feature "contemporary California design and architecture, with a strong dash of the rustic yet sophisticated French farmhouse style so favored in the area."
Floor plans will include studio and one- and two-bedroom units. Sizes range from about 700 to 1,200 square feet.
Other amenities include three dining area options, courtyard gardens and gathering spaces, a fitness center, salon, theater, spa, wine bar, coffee bar and pizza oven.
New Watermark residents will pay a one-time membership fee ranging from $30,000 to $60,000, said Ellen.
However, unlike some retirement communities, Watermark units in Napa are leased, not owned.
Independent living apartment leases start at $3,995 per month. Assisted living apartments start at $6,295 per month. Memory care apartments start at $7,195 per month.
A leasing gallery, opening at 2999 Solano Ave. in June, will provide a preview of the project.
Once opened, the Watermark complex will employ approximately 200 people.
Watermark operates 58 communities in 23 states, including 10 in California.