Proposed Senior Facility on Justin-Siena Land Submits Revised Plan to Napa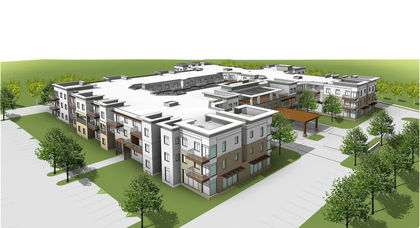 The developer behind a senior home planned for Justin-Siena High School property in north Napa has shared new details about its project – including a goal of breaking ground next year.
Construction of the 174-unit Napa Senior Housing is planned to begin in early 2017, Patty Gibbs, spokeswoman for Oppidan Investment Co., said in a news release. The Minnesota-based builder has pursued plans for the three-story, 195,000-square-foot seniors' development since July 2015 on 5.8 acres owned by Justin-Siena, which is seeking to develop the land to bolster its tuition assistance fund.
Oppidan also announced Napa Senior Housing would be operated by Watermark, an Arizona-based company that runs 37 elder-care communities nationwide, including Bay Area facilities at Oakland, Emeryville and Livermore.
No date has yet been chosen for the city Planning Commission to vote on the senior home, according to Community Development Director Rick Tooker. However, Oppidan developer Shannon Rusk said the city has advised the company that a decision may come as early as Sept. 1.
The senior residence planned for Napa would include roughly equal-size sections designed for independent and assisted living, as well as a memory-care section for up to 21 dementia patients. Services at the home will include a fitness center with wellness programs, outdoor dining deck, spa, salon, delicatessen, and a café that will be open to Justin-Siena students, faculty members and the public.
New renderings released Monday continue to show Napa Senior Housing as a single building, with the main entrance facing east and a central courtyard behind it. The drawings show the complex opening onto Solano Avenue, which Rusk described as a 90-degree reorienting of the entrance.
Despite the changes, the plans continue to show Napa Senior Housing as a single building, as it was when the Planning Commission reviewed an earlier version in April.
Though generally supportive of the plan, some city planners worried the building's size would be out of scale with smaller homes at Napa's northern fringes and could block westward views of the valley. Werner Maassen, an architect working with Oppidan, replied that builders need to avoid an on-site gas line and keep indoor hallways as simple as possible for the safety of elderly residents with limited mobility.
Justin-Siena leaders are working with the developer on the senior housing complex to build revenue for the private Catholic academy's tuition assistance fund, which provides about $1.7 million annually. The school enrolls about 650 students. The senior facility would replace a school athletic field on the northeast corner of its 38-acre property off Maher Street.