Oppidan to Break Ground on Gateway West Mixed-Use Development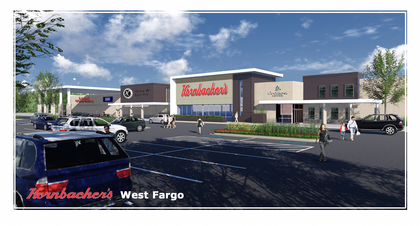 Friday, May 4, 2018
MJP Strategic Communications
Oppidan to Break Ground on Gateway West Mixed-Use Development
Includes first Hornbacher's store in West Fargo; new Holiday Stationstore
Oppidan Investment Company, a national property development firm headquartered in Excelsior, Minn., will break ground next week on its Gateway West development in West Fargo, ND. The groundbreaking celebration will be held at 11 a.m. on Thursday, May 10 at the northwest corner of I-94 & Sheyenne St.
Currently a farmland, the 20-acres at Gateway West will be transformed into a mixed-use development that is anchored by Hornbacher's. This is Hornbacher's first West Fargo store and 9th store in North Dakota and Minnesota. The development will also include a Holiday Stationstore.
Concurrent with this project, the State Transportation Department is conducting interstate interchange improvements and the City of West Fargo is expanding Sheyenne Street including the portion by Gateway West.
"We are looking forward to opening our first store in West Fargo, building great relationships, and serving the local community," said Matt Leiseth, Hornbacher's President. "From our first liquor store to our expanded ready-to-eat and fresh meal options, this store will have many features that cater to our customer's needs."
On hand at the ground-breaking ceremony will include Mayor Rich Mattern.
Construction will begin in May and the grand opening is expected in the winter of 2019. The project's general contractor is Kraus Anderson, the civil engineer is Kimley-Horn, and the architect is SEH, Inc.
For more information, visit: Gateway West Shopping Center
###
About Oppidan
Since 1991, Oppidan Investment Company has been providing development, construction and project management, asset management, and investment services to the retail, industrial, commercial, residential, senior housing and mixed-use markets. The firm has successfully developed more than 450 projects spanning a total of 15.8 million-square feet in 35 states and Canada with a total value of more than $3.0 billion. Oppidan's client list includes Duluth Trading Company, Ebenezer, Northern Tool, Camping World, Cub, Sprouts, GE Oil & Gas, Goodwill, Orchard Supply Hardware, and more. To learn more about Oppidan, visit www.oppidan.com.
About Hornbacher's
Hornbacher's first opened in 1951 and has always strived to have the highest-quality and freshest perishable products. Hornbacher's is a longtime member of the Fargo-Moorhead business community and takes pride in serving its communities through charitable, educational, and nonprofit events. Find out more by visiting hornbachers.com. "Like" us on Facebook at facebook.com/Hornbachers and follow us on Twitter at twitter.com/hornbachers.