Oppidan proud to be named a senior housing influencer by GlobeSt.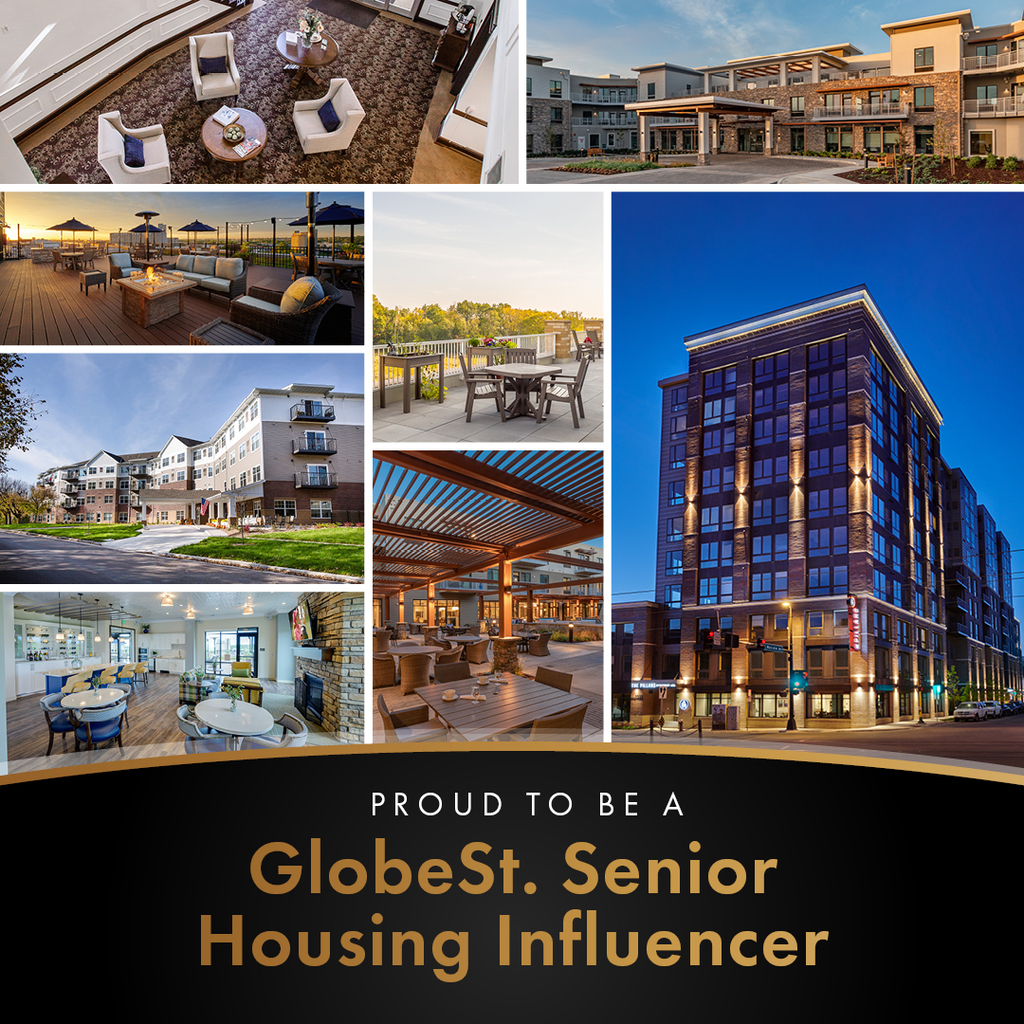 Wednesday, December 1, 2021
Oppidan proud to be named a senior housing influencer by GlobeSt.
Oppidan has been laser-focused on the senior housing industry and never held back on development of senior housing communities, even despite a global pandemic that shifted the senior housing landscape. This relentless desire for excellence, passion for ensuring seniors have a wonderful place to call home, and exceptional teamwork have led to many successes, including being named to the 2021 GlobeSt. list of Senior Housing Influencers.
Longevity matters
Oppidan entered the senior housing market in 2015 and has never looked back. Oppidan created The Pillars brand of senior living communities and developed elegant communities throughout Minnesota in Highland Park, Mankato, Minneapolis, Shorewood Landing and White Bear Lake. Two additional Pillars communities are currently under construction, including The Pillars of Grand Rapids, a 140,000 square foot senior housing community adjacent to an area hospital to create a unique healthcare hub, and The Pillars of Lakeville, which offers unprecedented intergenerational programming with an adjacent church and school.
Oppidan expanded its reach into California, developing The Watermark at Napa Valley and The Hacienda Mission San Luis Rey, a senior living community under construction in Oceanside. Oppidan is planning additional senior living communities in Newport Beach, Santa Cruz, and Asheville, North Carolina.
Oppidan's development acumen has been highlighted across the industry, winning awards including Minnesota Real Estate Journal Top Urban Senior Housing, Gold Nugget Award Grand Award Winner for Best Service Enriched Senior Community and Building Industry Association of Southern California SAGE Award for Best 55+ CCRC/Lite Plan Community on the Boards.
Focus on memory care
Oppidan's senior living communities include independent living, assisted living and memory care suites. But Oppidan has taken its passion for helping memory care residents a step further.
Oppidan created the Pillar's Fund, which is used for memory care programming to enrich the lives of the memory care residents who reside in Oppidan-built senior living communities. Beneficial memory care programming is often costly for senior housing operators, which is why Oppidan's contribution is so impactful to both the senior residents and the operator's budgets. Oppidan donates additional funds to the Pillars Fund after the completion of each senior living community and has pledged $500,000 to the Pillars Fund. As a result, seniors can experience more than 50 top-notch resident programs they wouldn't normally have had access to, like interactive music therapy, Alzheimer's Poetry Project, interactive drumming, Art4Life, Memory Care Garden Beds, Gentle Yoga for Graceful Aging, songwriting & visual arts, Zoomobile, Northern Clay Center programming, and creative storytelling.
Oppidan also offers Virtual Reality programming in its senior housing communities. The health benefits of Virtual Reality among seniors is staggering. By offering such a cutting-edge technology to seniors, including memory care residents, Oppidan showcases its extreme passion for helping others by investing significant amounts of money and resources to ensure seniors thrive.
Seeing beyond the brick and mortar
Oppidan's work doesn't end when the construction is complete and for the past 30 years, the team at Oppidan has been focused on transforming the communities in which they build. This includes encourages its employees to give their time and treasure to community organizations. Oppidan employees have raked leaves and cleaned yards for area seniors through Southeast Seniors and have joined in the Walk to End ALZ with the Alzheimer's Association.
Oppidan realizes it takes a greater community to help its residents thrive. That's why they regularly host fundraisers for, and donate to, area police and fire departments that provide much needed first response to its senior housing communities. Over the holidays, Oppidan will deliver home cooked meals to area fire stations and police departments to show their support and gratefulness. Oppidan offers complimentary transportation through Mobility4All to ensure its residents have safe and dependable transportation options, and Oppidan offers moving services through Gentle Transitions to take the worry out of moving out of your home.
"Oppidan" is the Latin word for "investing in your city," and that's exactly what the team does each and every day. Oppidan doesn't construct buildings. Instead, its team builds communities and creates value, allowing all to thrive. This is why we're extremely honored to be named to the GlobeSt. list of Senior Housing Influencers.