Oppidan expands into medical office industry with Animal Emergency & Referral Center of Minnesota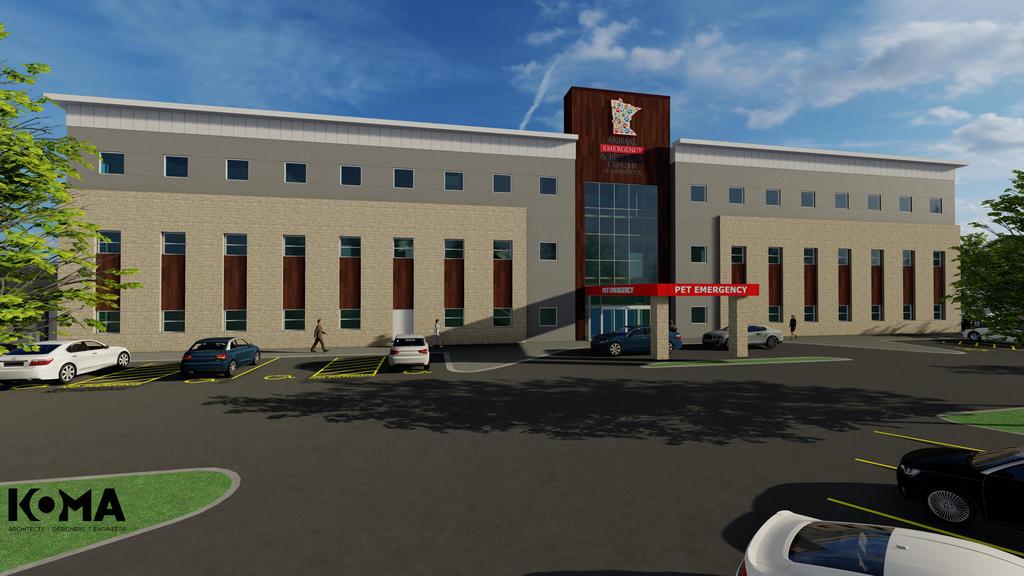 Oppidan expands into medical office industry with Animal Emergency & Referral Center of Minnesota (AERC) specialty center
Oppidan leading bidding and contracting process, project administration and oversight
Excelsior, Minn. – (June 2, 2022) – Oppidan Investment Company, a national property development firm headquartered in Excelsior, Minn., is expanding into the medical office industry with its latest project – creating a new specialty center for Animal Emergency & Referral Center of Minnesota (AERC).
The new AERC specialty center, in Oakdale, Minnesota, includes 45,000 square feet spanning three floors. The building will contain veterinary offices as well as state-of-the-art technical spaces, including exam rooms, MRI and CT rooms, and additional surgical suites, allowing AERC to increase sorely-needed capacity for emergency and specialty services for pets from all over the Midwest.
"Entering the medical market requires extensive, specific knowledge about the technical parts and pieces of the medical field," said Blake Hastings, Oppidan President. "For example, medical gas locations and connection matters. Coordination of sophisticated equipment is the key to a successful project. Understanding how MRI and CT equipment operate and how they need to be installed, what other building services need to be connected, and how to protect patients and staff from harmful side effects is critical. All of this requires skilled professionals who can manage the process with ease."
Oppidan began working with AERC in 2021, conducting project management through the bidding, contract administration and contract negotiation of the new project. Oppidan is continuing its work on the AERC specialty center through project administration and oversight to ensure the project is completed on time and on budget. Oppidan broke ground in August 2021 and construction is expected to be completed in Fall 2022.
"This is more than a specialty center for pets. We're also building hope, relief and peace of mind for families throughout the Midwest because their best friends will receive the high-quality emergency and specialty care they need, when they need it most," said Hastings. "It goes back to our core values of caring for our community, engaging in projects we're passionate about, and in which we have the experience to excel."
Since 1991, Oppidan has continued to command attention in the commercial development industry, growing into a nationally recognized company for its development, construction and project management, and asset management services in the retail, industrial, commercial, residential, senior housing, affordable and mixed-use markets. Oppidan has successfully developed 550 projects valued in excess of $4 billion and spanning 25.7 million square feet throughout 39 states and parts of Canada. Its impressive roster of clients includes Duluth Trading Company, Northern Tool, Cub Foods, Target, Sprouts, Ebenezer Management Services, Watermark Retirement Communities, General Electric, Caliber Collision, HSRE, Kayne Anderson, IPI, and Bailard, among many others.
RJM is responsible for the construction and KOMA is the architect.