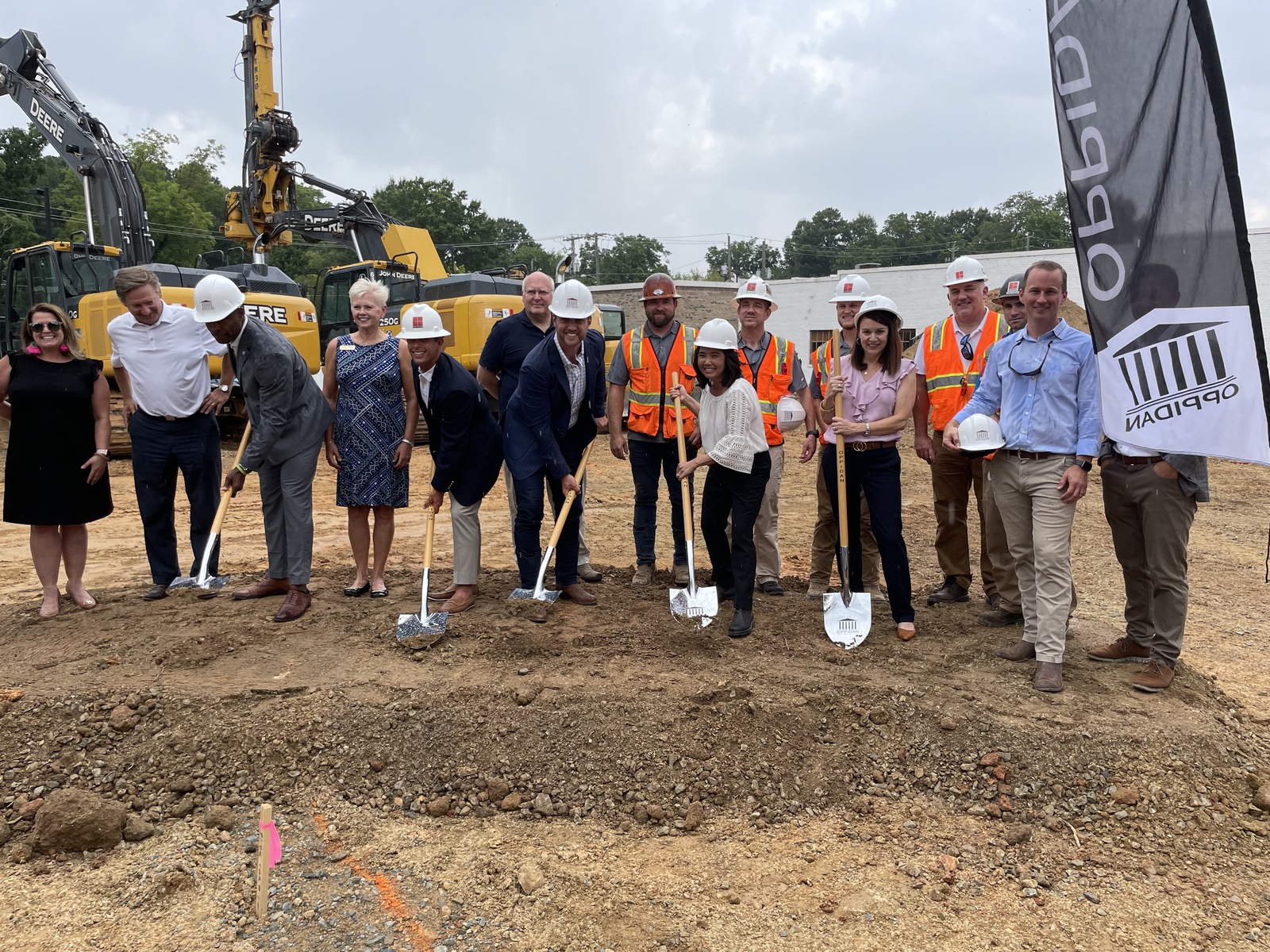 Oppidan breaks ground on Highline Building in downtown Apex
Oppidan breaks ground on Highline Building in downtown Apex
Mixed-use building is already more than 50 percent pre-leased
Apex, N.C. – (July 26, 2021) – Oppidan Investment Company, a national property development firm headquartered in Minneapolis, Minn., and with offices in Apex, N.C., will break ground on the Highline Building, a mixed-use development in downtown Apex.
The groundbreaking ceremony will take place at 3 p.m. on Wednesday, July 28, 2021, at 209 N. Salem St. in downtown Apex.
This 32,000 square foot building will include two floors and 21,000 square feet of office space above 11,000 square feet of ground floor retail. More than 50 percent of the space is already pre-leased and includes local businesses offering a mix of dining and shopping experiences. Additionally, Oppidan will relocate its Southeast headquarters into the Highline Building.
"Apex is one of the fastest growing communities in North Carolina, though the downtown district is quintessential small town America. This aligns with Oppidan's headquarters in Minnesota, which is why we were intrigued by this location," said Tim Brent, Oppidan Executive Vice President, Southeast. "We're thrilled to add to the vibrancy of downtown and bring the community together at the Highline Building."
The name is a nod to Apex's rail town history, and the building's architecture will retain a historic feel with arched windows and linear features to fit in with the architectural time period. The building will be set back from the street, creating outdoor space for dining or gathering.
"The Oppidan mixed-use project is a big deal for Apex. I believe the addition of the Highline Building on Salem Street will provide a unique opportunity to enhance economic vitality and community connection while illuminating our incredible downtown. I'm excited for Oppidan and all involved in making this vision a reality for our town," said Jacques K. Gilbert, Mayor of Apex.
One local business who has already secured a lease at the Highline Building is Oaklyn Springs Brewery. Oaklyn Springs Brewery partner, Chris Groff, cited the premier location in a thriving downtown and an enticing atmosphere as being top reasons why they selected the Highline Building.
"As Oaklyn Springs works to better serve its customers and share exceptional, award-winning craft beer, locating in the vibrant and welcoming downtown Apex is a perfect match. Not only can we share our passion, but we can join an environment that celebrates 'the peak of good living' for its community and citizens," said Groff.
Construction of the Highline Building is expected to be completed in Q1 2022.
The project's general contractor is Barnhill Contracting Company, project engineer is BGE and the architect is Alliance Architecture. The office broker is Tri Properties and the retail broker is Lee & Associates.