Oppidan breaks ground on 171-unit apartment building in Cottage Grove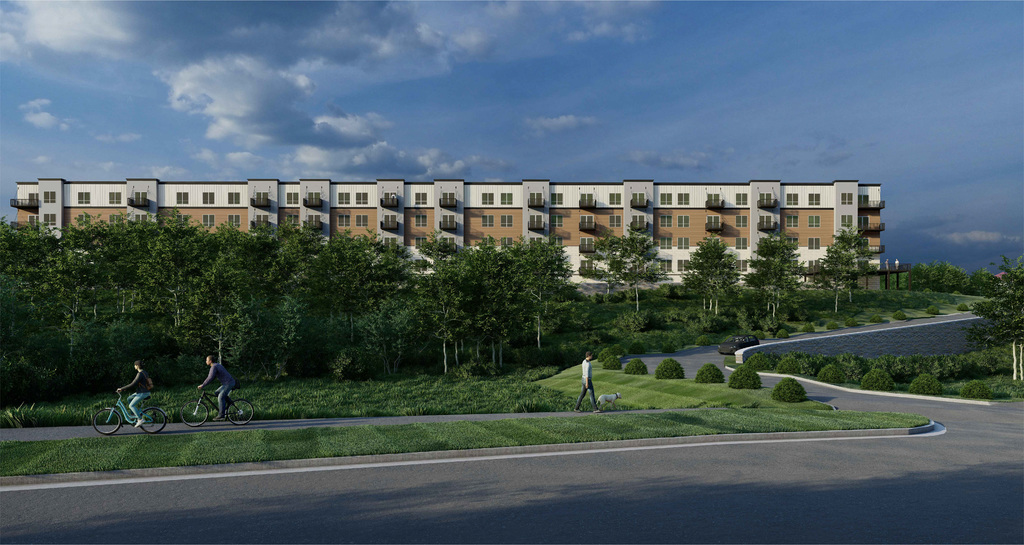 Oppidan breaks ground on 171-unit apartment building in Cottage Grove
Excelsior-based Oppidan Investment Co. held a groundbreaking ceremony this week for an incoming market-rate apartment complex in Cottage Grove.
The four-story, 171-unit apartment building is slated for 7689 Hardwood Ave. S. The building will start to go vertical next week as months of clearing and grading have been underway since last fall.
Oppidan's executive vice president of development Paul Tucci said the project offers "another housing option in a growing community," jumping in early on a possible trend of more multifamily in the suburb.
"Recently, a similar project was opened at the old City Hall site, Grove 80. We are going to offer up a variety of units as they did with a more amenitized project," Tucci said.
The structure will feature studio-alcove units up to three-bedroom units. Community amenities include things like a community room, fitness center, yoga studio, media room, patio, outdoor dog run, bike storage and a rooftop deck. It will have both surface parking and underground heated parking.
The project will rise in a wooded area, which Tucci called a "wonderful setting on the side of the hill." The fourth-floor rooftop deck will have "serene" views to the southwest.
Amcon Construction is the architect and general contractor for the project and Trilogy will manage the building. The project got final city approvals last June and Oppidan expects construction to be completed in fall of next year, hoping to let people settle in before the school year starts.
"We do know there is a definite need for this type of apartment complex or these type of living opportunities," Mayor Myron Bailey said at the groundbreaking ceremony. "From cradle to elderly ages, we want people to be able to come here and stay here in Cottage Grove throughout their entire life."
Tucci pointed to the proximity of 3M and other solid jobs, along with a good school district. Oppidan completed a market study showing demand for this type of housing. He noted that grocery, retail and a restaurant are nearby, while the apartment is still "in a quiet little area."
While Oppidan once built a Hollywood Video in Cottage Grove, this is the company's first multifamily project in town. It's the company's 11th market-rate apartment project in Minnesota and North Dakota, signaling the company's growing diversity of pursuits.
The company has completed a lot of senior housing and industrial projects in the recent past.
"We've been diversifying our platform from retail driven back in the '90s and early 2000s to where we are now," Tucci said. "This [Cottage Grove apartment] is a tentacle of that platform diversification."