New look, businesses along Hwy. 5 represent a changing Waconia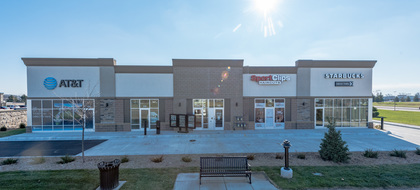 You are cruising into town on a cold winter day. On your left is a new Jimmy John's, a Culver's and a new Holiday gas station. Up ahead, there's a Dollar Tree, a Starbucks, a Sports Clips and other new commercial facilities. A new Subway and an ALDI market are under construction, and a couple of "Coming soon" signs are prominent as you pass through town.
You're in Chanhassen or another Twin Cities suburb, right?
Nope -- welcome to Waconia.
The profile of the main corridor through the city is changing dramatically, driven by growth, a fairly sound economy and improvements made to Hwy. 5 in recent years.
In addition to the new commercial developments that are in place or have a construction profile, others are on the way. Taco Bell has secured a building permit for a location in Waconia and a new indoor sports complex has been proposed near Waconia High School. And more commercial could be coming too.
While some residents raise concerns about losing the charm of their small town, others appreciate the additional services and convenience. And while some downtown business owners have expressed concerns about highway development pulling away business, others say anything that draws visitors to Waconia is good for the whole community.
"Our challenge is to blend growth and that small-town feel," said Waconia Chamber of Commerce President Kellie Sites. "Highway 5 will bring people to town. Our goal is to get them to turn off the highway and explore the many things we have to offer – like our brews, wines and spirits scene, our downtown merchants and restaurants, and of course the lake."
In terms of those "chain" restaurants and businesses popping up along the highway, Susan Arntz, Waconia city administrator, says this: "From a city economic development perspective, we don't chase chains. That type of development tends to follow the highway. Our focus is more on assisting start-up business, especially in the downtown, or helping existing businesses expand."
Nonetheless, restaurant chains like Culver's and Taco Bell or a national retailer like Target "bring a certain legitimacy to town and are what residents and visitors come to expect," Sites said. And she says one of the Chamber's goals is to get those chains to establish a local presence in the community.
"We call it 'coopetition'," Sites said. "Businesses encouraging customers to check out other places, and working together to promote the community."
The best thing residents can do to preserve that small-town feel, she says, is to be welcoming to visitors, and "shop, dine and play locally."