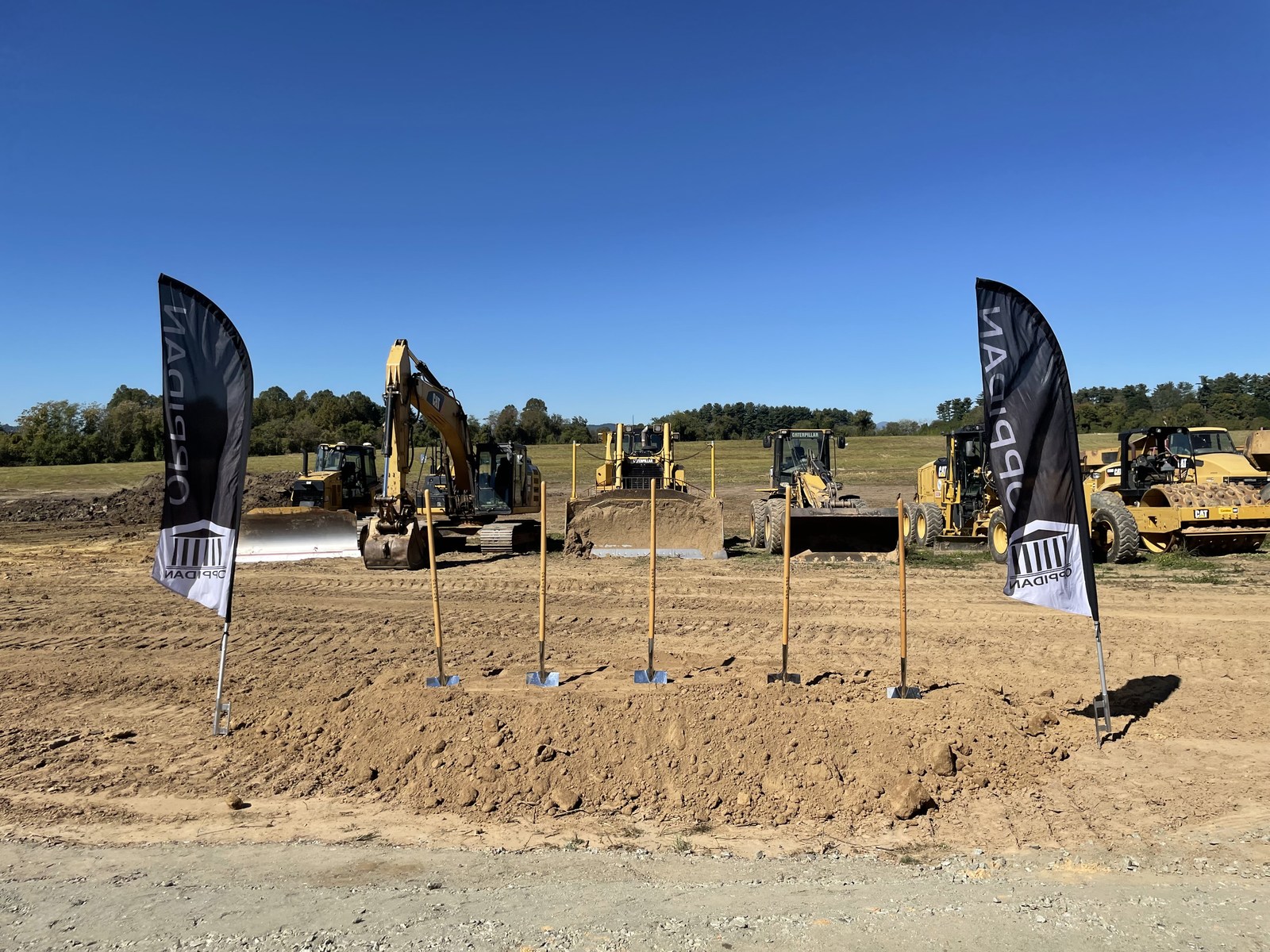 Leaders celebrate commerce park as 'blank slate for good'
Leaders celebrate commerce park as 'blank slate for good'
Heralding the area's newest industrial park as a "blank slate for good," Hendersonville and Henderson County leaders last week praised the McMurray Road site as a catalyst for job creation, an exemplary public-private partnership and a welcome addition to the inventory of marketable space for manufacturing and distribution.
The comments came Thursday under a brilliant blue sky as Oppidan Investment Co., a Minneapolis-based property development firm, broke ground on the Blue Ridge Commerce Center, an $80 million industrial/warehouse development made up of four buildings totaling 680,000 square feet of Class A space on 65 acres.
The commercial park is the second major industrial park over the past two years created through a joint effort of the Partnership for Economic Development, Henderson County, the city of Hendersonville and Duke Energy.
"This is more than just a site," Hendersonville Mayor Barbara Volk said. "This is a blank slate for good and we can all work together to find great success in our community."
In recent years, she noted, the city council has become more aggressive in efforts to spark economic development.
"We recognize that industrial development pays significant dividends in our community, and we look forward to future opportunities," she said. The city's planning and water and sewer departments and Duke Power "have been intimately involved to ensure we are providing needed infrastructure for the next industrial site in our community. We partnered with Henderson County to streamline the process and be more proactive for industrial development."
'A job is a catalyst for life change'
Rebecca McCall, vice chair of the Henderson County Board of Commissioners, noted that she lives close enough to the site to have walked to the ceremony. She said while the Hudgins family had made productive use of their farm for years, it was now time for the land to serve the community in a different way.
"Over the years their land has been used in various forms of farming, from crops grown on this very soil to trees grown in the area that's now referred to as the Pines, where my children played when they were growing up," she said. "There has been a llama farm across the interstate as well as a dairy farm right over here. I remember this road, when it was not paved, and I remember when there was no I-26. While preserving farmland is very important, especially to our board, there are portions of our county that have grown over the years to accommodate industry."
"Stepping on this site in 2021 through the site readiness program helped me to realize" that the former farmland "can be a place for other families to enjoy a livelihood, for memories to be made between colleagues and for generational financial security to take root," she said. "A job is a catalyst for life change and we cannot create jobs without places for them to develop."
'Wide open to lot of different tenants'
Tim Brent, Oppidan's executive vice president Southeast, came bearing a long list of people to thank, including elected leaders, administrators and department heads with the city and county, the Partnership and its CEO, Brittany Brady, and the project's architects, brokers and contractors, including Cooper Construction Co. locally.
The construction is slated to take place in two phases, starting with two 143,192-square-foot (210x676 feet) followed by one more building the same size and a fourth, larger one, of 224,640 square feet. (260x864 feet). Building specs could change based on tenants' needs.
"The idea is to build the most flexible building from a design standpoint as possible to capture a wide range of tenants," Brent said in an interview before the dirt-turning ceremony. "We've had already a lot of interest from a diverse tenant mix — manufacturing, we've had pharma. There's been a lot of interesting looks so far and I think it'll be wide open to lot of different tenants. One of the tenants, for example, is a manufacturer for BMW down in Greer."
Although officials who spoke at the groundbreaking did not project the number of jobs that might materialize on the land, plans suggest that could be a large number: the site will have 556 parking spaces for cars and 184 for tractor-trailers.
A native of Canada who played professional hockey for seven years, Brent came to Oppidan's Raleigh office in 2016, three years after he finished his NHL career as a forward for the Carolina Hurricanes.
Construction will get under way first on the spec buildings. "And then hopefully in the meantime somebody comes along and has a 'build to suit' and we can accommodate them on the rest of the property," he said.
He said project managers have already won NCDOT approval for their plans to widen McMurray Road. He did not have a projection of how many truck trips per day the commerce park may generate.
"If it's a manufacturing facility, and if there's not a lot of distribution, it'd be very little truck traffic," he said. "It'd be mostly auto traffic."
Steve Gwaltney, chair of the Partnership for Economic Development, said the project highlighted the value of a public-private partnership committed to job creation.
"In 2020, our community got a lot more serious about securing sites for industrial development," he said, recounting the joint effort that formed the Garrison Industrial Park. "It took collaboration from the whole team to do that by partnering with the city and the county and private industry and we're very committed to helping this happen here today. … We don't (often) get the opportunity to have 600,000-plus square feet of industrial space to market. Brittany's phone is constantly ringing" with inquiries about industrial space. "We're just thrilled that we have another industrial park here."
In closing, Brent said: "We're very excited to deliver some class A buildings to allow you to do what you do best — attract new business, expand current business and advocate for this county's people and workforce. … It's a real exciting time for us. We're a huge believer in in Henderson County and the town of Hendersonville and we're excited to invest here."