Hornbacher's to Open New Grocery Store in West Fargo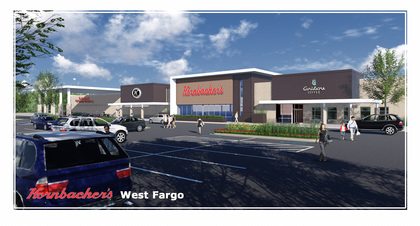 Thursday, September 21, 2017
WEST FARGO—After the city tried for years to develop what was long dubbed the "Strawberry Patch" in the northwest corner of Sheyenne Street and Interstate 94, West Fargo's first Hornbacher's grocery store will soon find a home there.
Oppidan Investment Co. plans to break ground this fall on 15.5 acres of land that will become home to a nearly 61,000-square-foot Hornbachers store that will include a pharmacy and Caribou Coffee.
The Hornbacher's store is expected to be open by fall 2018.
"Everything seemed to work together and we got it done," Mayor Rich Mattern said. "We tried so many years to get something there. I'm just ecstatic about it." The Excelsior, Minn., based developer also plans restaurants and a strip mall at the development site it is calling Gateway West, although tenants of those buildings have not yet been announced, said Matt Marshall, the city's economic development director. A stand-alone gas station is also planned for the site.
Fargo is home to five Hornbacher's stores and there are two in Moorhead. There is also a Hornbacher's store in Grand Forks
"The opening of our ninth store highlights our commitment to the local community and the customers we serve," Hornbacher's President Matt Leiseth said in a release. "We're excited to be working with a great developer in Oppidan and look forward to sharing additional news about this new store at a groundbreaking ceremony later next spring."
West Fargo has two other grocery brands, Cash Wise at 755 33rd Ave. E. and Family Fare at 1100 13th Ave. E., as well as Costco.
Mattern said the city has eyed the area for development for a long time, but disagreements over easements on an underground gas pipeline held up developer proposals.
"It's been challenging to develop for a long time. It was very hard to get someone who wanted to go in," Marshall said. "But it will be another great option for groceries. On top of that, there will be more retail development, which is good for the city and good for the citizens."
A sign-planting is planned for Wednesday, Sept. 13, with some ground work scheduled to start this fall. Most of the construction will begin next year as work begins on a $60 million Sheyenne Street improvement project that includes a redesign of the Interstate 94 and Sheyenne Street interchange by the North Dakota Department of Transportation.
The city plans to install a stoplight at Beaton Drive and Sheyenne Street as part of the project to allow access to the new store. Shoppers will also be able to access the area from 19th Avenue West and Fifth and Seventh Streets. Oppidan has done many other projects in North Dakota and is the developer responsible for the West Fargo Michaels and Gander Mountain in Fargo, according to Stacy Duke, a spokesperson for Oppidan.
Oppidan is working on another West Fargo retail development on vacant land just west of the Costco at 750 23rd Ave E, Duke said in a release.