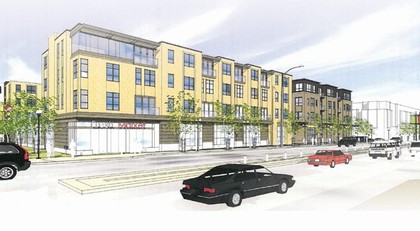 Oppidan announces St. Louis Park Bally's project
Tuesday, January 27, 2015
MINNEAPOLIS—(January 27, 2015)—Minneapolis-based Oppidan Investment Company, a national property development firm offering a full range of real estate services, today announced plans to construct a five-story mixed used development at the former Bally Total Fitness site located at 4900 Excelsior Boulevard in St. Louis Park. The development will include 180 apartments as well as a 28,000-square foot Fresh Thyme Farmers Market.
"St. Louis Park's Excelsior and Grand development has proven to be a wonderful asset for the city of St. Louis Park, its residents and the visitors who frequent it. With its close proximity to this established residential and retail hub, we believe the former Bally's site is ripe for redevelopment," said Paul Tucci, property developer for Oppidan. "We're excited to be involved in the growth that St. Louis Park continues to experience."
Construction of the site will begin in the spring of 2015, and the building should be complete by the summer of 2016. Leasing of the apartments—a combination of studios and one-, two- and three-bedroom units, will begin in early 2016.
About Oppidan Investment Company
Twin Cities-based Oppidan Investment Company is a national property development firm recognized for offering a full range of real estate services to the retail, industrial, commercial and residential markets. Since its founding in 1991, Oppidan has successfully developed more than 300 projects spanning more than 9.5 million-square feet with a total value of more than $1.775 billion. Oppidan's client list includes CARBO Ceramics, Coborn's, GE, Goodwill, Orchard Supply Hardware, Pioneer Energy, Shopko, and more. To learn more about Oppidan, visit www.oppidan.com.