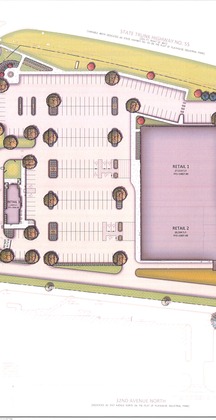 Fresh Thyme Farmer's Market to anchor Plymouth Redevelopment
Fresh Thyme Farmers Market to anchor Plymouth redevelopment
Staff reporter-Minneapolis / St. Paul Business Journal


A fourth planned Fresh Thyme Farmers Market in the Twin Cities is slated to anchor a Plymouth redevelopment project.
Oppidan Investment Co. has submitted plans to redevelop the southwest corner of Highway 55 and Vicksburg Lane. The Minnetonka-based developer has letters of intent for a 27,500-square-foot Fresh Thyme, a 20,600-square-footGoodwill/Easter Seals store and a 2,000-square-foot Starbucks with a drive-thru.
Fresh Thyme is briskly moving forward with a Twin Cities expansion. The Illinois-based grocer will open a Bloomington store this year and also has stores in the works for St. Louis Park and St. Paul's Sibley Plaza redevelopment.
The Fresh Thyme model is heavily focused on fresh produce, organic foods, natural meat and has lots of gluten-free and dairy-free food. It describes its stores as simple and low-priced.
Fresh Thyme has 12 stores open nationwide and plans to open another 15 in 2015. The footprint hasn't reached outside of the Midwest, at least not yet.
Fresh Thyme would join a crowded grocery market in Plymouth. At the same intersection, there is already a Lunds, Cub Foods, and Von Hanson's Meats; plus a Rainbow Foods just down Highway 55.
"Plymouth has very strong demographics and, as Fresh Thyme is making an entrance into the market, it has identified Plymouth as a hot spot," said Oppidan developer Jay Moore.
This will be the ninth Goodwill store Oppidan has developed.
"Their mission is truly to help people find work and employment," Moore said. "It's a great story and we love doing work for Goodwill."
Plans call for tearing down an industrial building that houses Store Source Inc., a tile and granite company. That company is relocating its warehouse, manufacturing operations and showroom within Plymouth, to 13415 Water Tower Circle, according to the company website.
A public hearing is scheduled for the May 6 Planning Commission followed by potential May 26 City Council approval.
Pending city approvals, demolition will begin in July, Moore said.