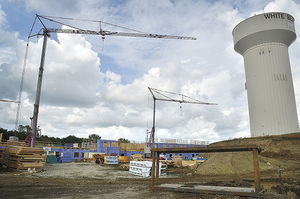 Completion a Year Away for New Senior Facility
WHITE BEAR LAKE — Construction is on schedule for White Bear Heights Senior Living on Centerville Road.
At least for now. "I'm knocking on wood as I say that," said Oppidan's vice president of development, Paul Tucci.
Like most construction projects, progress on the senior facility, which lies in the shadow of the water tower across from Cub Foods, is weather-dependent.
The developer is shooting for a May 2017 opening of the 112-unit building. There will be 45 assisted, 37 independent living and 30 memory care apartments.
Marketing will begin a month or so ahead of opening, Tucci said.
His company was attracted to the site after a market study of the area, he said. "There was a need for this type of product. There is competition (from The Waters on Highway 61), but that's on the other side of I-35E. Our services will be the same; the difference is geography. There is opportunity and a demand for this type of housing here."
Oppidan "loves White Bear Lake," Tucci added. They built White Bear Marketplace on Buerkle Road and would "love to have more projects."
Oppidan built a similar senior facility in Woodbury called Red Rock and, according to Tucci, they are working on four other sites. Demographics say there's a need, he said. "People are much more mobile today, which means mom and dad are a two-hour plane ride away. Their kids want to be sure they're taken care of."
Debra Neutkens