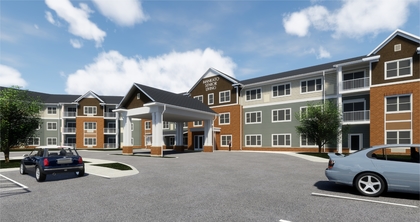 Large senior housing complex starting at Prairie Winds
Wednesday, January 24, 2018
MANKATO — Minneapolis-based Oppidan has joined the booming senior housing market in Mankato as it begins construction on a 118-unit senior living community in the Prairie Winds development along Highway 22 on the east edge of town.
Paul Tucci, vice president of development for Oppidan, said the company has done a few commercial projects in Mankato, including the hilltop Cub and renovating the building that was then leased by Gander Mountain and Gordman's, but this is their first housing venture here.
He said that while retail developments are rewarding, building senior communities is special. "When you do a project like this, you have a real impact on people's lives."
The facility, The Pillars of Mankato, will be owned by Oppidan and managed by Ebenezer Management Services, a part of Ebenezer, the senior housing arm of Fairview Health Services based in Minneapolis. The three-story, U-shaped building will include independent living, assisted living and memory care.
Tucci said they hope to see people moving in by around May of 2019. He said they will work to allow people to move into the memory care section first because those types of units are in more urgent demand. The building, at 3125 Prairie Rose Drive, will be three stories and 145,000 square feet.
Tucci said Oppidan has been building many market-rate apartments and senior living communities in recent years. He said that prior to 2008 about 97 percent of their business was developing retail space, but they moved aggressively into senior housing when the recession put the brakes on retail development.
Susan Farr, of Ebenezer, said they manage nearly 90 senior facilities, mostly in the Twin Cities and has a partnership with Fairview Hospital. "We've been around for more than 100 years." This is their sixth project with Oppidan.
Ebenezer already has a presence in Mankato, managing Willow Brook senior cooperative.
Oppidan has several other big senior projects going up in the Twin Cities and in California.