Oppidan starts work on new retail center in Plymouth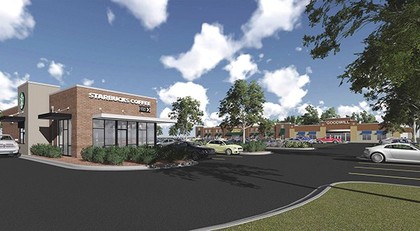 Thursday, August 20, 2015
A new retail development with a Fresh Thyme grocery store, Goodwill store and Starbuck's is coming to the southeast corner of Highway 55 and Vicksburg Lane in Plymouth, one of the city's busiest intersections.
The 6.5-acre site is currently occupied by a 1950s-era warehouse, which is being torn down starting this week to make way for Minnetonka-based Oppidan Investment Co.'s new development.
Known as Vicksburg Marketplace, the development will include a 29,000-square-foot Fresh Thyme grocery store, a 20,600-square-foot Goodwill store and a 2,080-square-foot Starbucks coffee shop with a drive-through.
Oppidan developer Jay Moore said Thursday that the project site presented an ideal opportunity for fresh new development, given its high visibility and the presence of other retail attractions.
"It's right on what we consider Main and Main — a very prominent intersection," Moore said.
Marie Darling, a city planner, said the city has not yet issued a building permit, but the Plymouth City Council has granted the green light for construction.
"They are currently reviewing some minor plan changes, but other than that they have all their approvals," she said.
Fresh Thyme is a relative newcomer to the Twin Cities. City documents describe it as a "healthy organic grocery store," with one other metro area location under construction at 2100 W. 80 1/2 St. in Bloomington, and 13 existing stores in the Upper Midwest.
In a city staff report, Moore said the store would carry "fruits and vegetables, fish flown in daily, body care items, vitamins and health care items, as well as beer and wine."
Fresh Thyme is scheduled to open 60 stores overall by 2019, according to its website.
Goodwill is a longtime Oppidan client. The planned store in Plymouth is a pretty typical size for a Goodwill location, Moore said.
"They were very active in trying to secure a place in Plymouth," Moore said. "This ended up being a perfect location."
Moore said abatement work commenced last week. Demolition of the warehouse at 15831 Highway 55 started this week and is expected to last five to six weeks, he said.
Toward the end of September, crews will begin working on utilities, the foundation and concrete walls, with the goal of completing the project in spring or early summer of 2016, Moore said.
The project team includes DJR Architecture of Minneapolis and Engelsma Construction in New Hope.
Moore said the site didn't require any major environmental cleanup.
"There wasn't any major manufacturing going on or chemical-type uses there, which is good," he said. "The site was actually very clean."
The warehouse was built in 1958, expanded in 1963 and 1965, and divided into multiple tenant spaces in 1980, according to a city staff report.
Oppidan worked out relocation agreements with the warehouse's tenants, including a granite and countertop provider called Stone Source, Moore said. Stone Source's new showroom is at 13415 Water Tower Circle in Plymouth, according to its website.