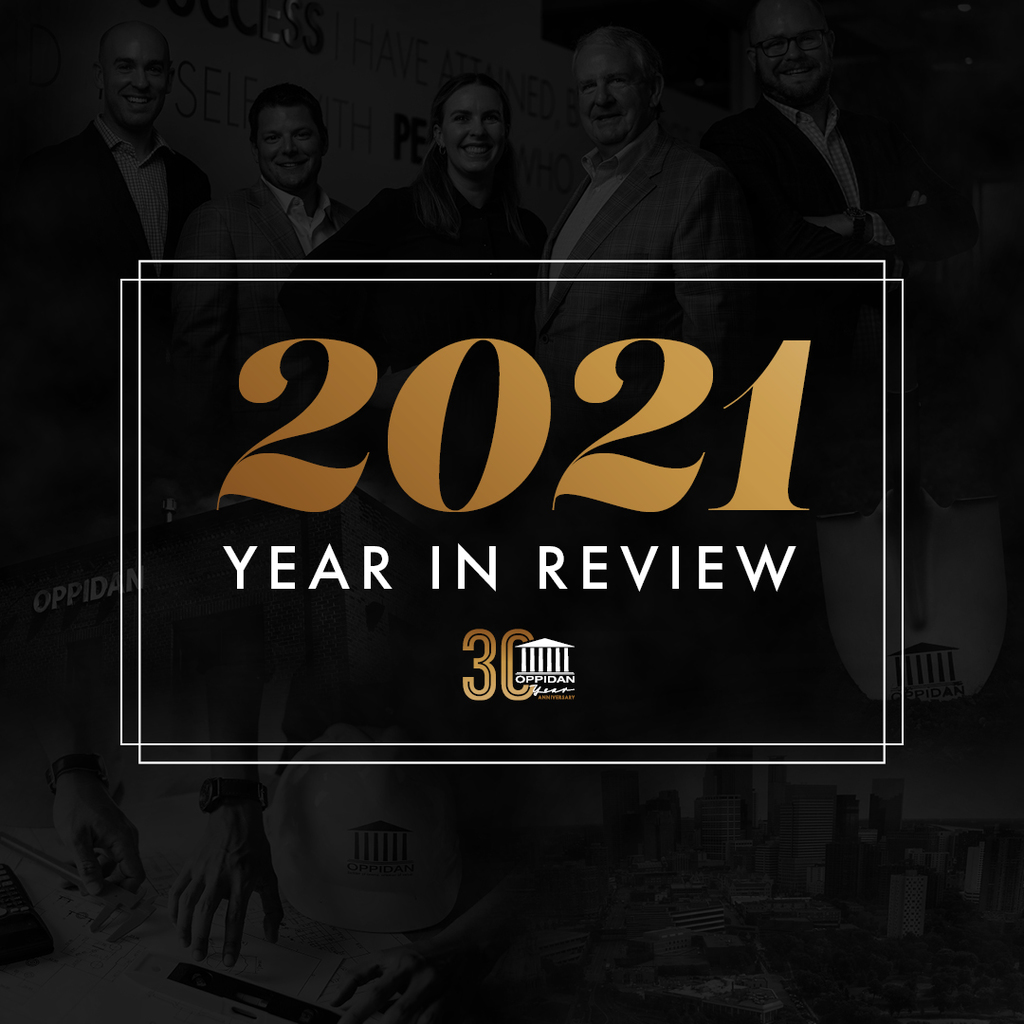 Thursday, December 30, 2021
Celebrating 30 years
This year marked Oppidan's 30th anniversary, and we spent the year celebrating our successes, leaning on our past experiences, and honoring our team who helped get us here.
30 years ago, Joe Ryan dreamed big. He wanted to create something that offered flexibility and the ability to "work hard, play hard." 30 years later, Joe has a lot to be proud of. He created an award-winning, nationally recognized team that maintains a family-feel and is laser focused on its core values. Plus, we have fun along the way.
Now, we've grown into a nationally recognized real estate development company, successfully developing 566 projects valued in excess of $4.3 billion and spanning 26.4 million square feet throughout 40 states and parts of Canada. We provide development, construction management, property management, and asset management services to the industrial/data center, commercial, senior living, residential, mixed use, affordable housing, and retail markets.
2021 brought many emotions to the Oppidan team, including:
Optimism: As the COVID-19 pandemic continues into its second year, there's a sense of optimism. Vaccines are widely available, which have allowed some normalcy in our senior living communities. Family visits and community gatherings are taking place once again and laughter is filling the halls.
We remain optimistic about senior housing, and we haven't stopped in our drive to provide the most elegant and distinctive senior living communities. In 2021, we broke ground on two senior living communities – The Pillars of Lakeville (MN) and The Hacienda Mission San Luis Rey (Oceanside, CA). Work progressed nicely on The Pillars of Grand Rapids, and we look forward to welcoming residents into this beautiful senior living community in 2022. Plus, we have our sights on new senior living communities in Hermantown, MN, Newport Beach, CA, Santa Cruz, CA, and Asheville, NC.
We're also optimistic about our increasing involvement in market rate housing. Our team is pursuing new market rate housing in Minneapolis, and we'll be focused on additional market rate housing developments throughout Minnesota and North Carolina. We're thrilled to be working with real estate investment leaders, Water Street Partners, to assist us capitalizing these market rate housing developments.
Triumph: Our team works hard to deliver success for our clients. This is evident when looking back at what we've accomplished this year.
Oppidan continues to diversify and in 2021, we quickly met market demand in the industrial space with our biggest project to-date, a nine-property industrial pipeline of all Class A buildings, covering 1.55 million square feet in three development sites in Minnesota and North Carolina. We partnered with Rockpoint Group on this $157.3M equity partnership, and we're thrilled to watch these developments take shape. Our team is also excited about a robust pipeline that includes the potential of nearly 6 million square feet of future industrial space.
We celebrated a topping out ceremony for our newest mixed-use development in downtown Apex, NC. The Highline Building is special, not only because the development will enhance economic development and add to a vibrant downtown, but it will also be the new home of Oppidan's southeast headquarters.
We're also excited to watch our new Flying Cloud Commons take shape in Eden Prairie, MN. This development will enhance the community with its new-to-market grocery store and two outlots with Bank of America and Chick-Fil-A. This development is adjacent to a new senior housing community and market rate apartments.
Cheer: We round out 2021 with plenty to celebrate! The Minneapolis/St. Paul Business Journal named Oppidan to its Best Places to Work list for the second year in a row and honored our CFO Matt Allman with its CFO of the Year Award. Finance & Commerce named Joe Ryan to its Power 30 list of top industry executives. Oppidan also received national and regional award including ranking 9th on the Midwest Real Estate News Best of the Best List of Top Developers and was named by GlobeSt. as a Senior Housing Influencer. Plus, despite working through a pandemic that continues to alter our industries, our team is growing. We're thrilled to welcome six new employees to the Oppidan team.
Our senior living communities received special honors, too. The Minnesota Real Estate Journal named The Pillars of Prospect Park with an award for top Urban Senior Housing project. One of our senior living communities in California, The Watermark at Napa Valley, received the prestigious Gold Nugget Awards: Grand Award and Merit Award for Best Service Enriched Senior Community. Senior Housing News also recognized The Watermark at Napa Valley with as a finalist for its Architecture and Design Award. Another senior living community that we broke ground on this year, The Hacienda Mission San Luis Rey, received the SAGE Award from the Building Industry Association of Southern California for the Best 55+ CCRC/Lite Plan Community On the Boards.
Gratitude: We're grateful to our team for continuing to believe in our core values of community, accountability, passion, teamwork, urgency, respect and excellence. We're grateful to our clients for believing in the good work we do (and showing us with a 100% client retention rate for the past 30 years!). We're also grateful for our communities who understand that we do more than develop buildings. Instead, we create sustainable, lively communities.
Oppidan is the Latin word for investing in your city, and that's exactly what we've been doing for the past 30 years. In 2021, we invested just under $300,000 toward philanthropic efforts in our communities. There's truly no other company quite like Oppidan.