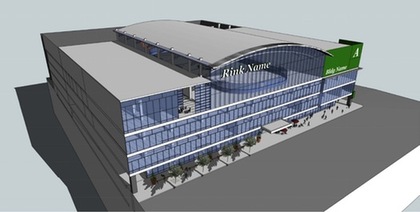 Oppidan opts in to $60M St. Paul Macy's redevelopement
Friday, September 18, 2015
Retail specialist Oppidan Investment Co. will partner with the St. Paul Port Authority on its $60 million redevelopment of a shuttered downtown Macy's store.
The parties are still fine-tuning joint venture terms but Port Authority spokesman Tom Collins said Friday that Excelsior-based Oppidan would finance 90 percent of the project. The Port Authority would cover the rest, including the $3 million it paid for the property last year and about $1 million in maintenance costs.
For years, the Macy's site at 396 Wabasha St. has been a showpiece redevelopment opportunity in St. Paul. The 515,000-square-foot property has drawn interest from a handful of prospective tenants, and Collins said he expects most of them to formalize lease agreements with Oppidan in place.
The Minnesota Wild hockey team wants to build a rooftop practice facility at the site. Jamie Spencer, the Wild's vice president of new business development and assistant to the team's chairman, told Finance & Commerce earlier this week the team would "engage pretty quickly" after the Port Authority selected a development partner.
Other potential tenants include a brew pub, health care outfits, financial service organizations and possibly a fitness center operator, Collins said. He declined to name the companies, but each of them has submitted a letter of intent.
In April, Walgreens developer Capital Real Estate Inc., based in Minneapolis, bought 25,000 square feet of the expansive property.
Port Authority President Louis Jambois has said it will take about a half-dozen users to fill the space.
"We are excited by the prospect of working with Oppidan," Jambois said. "We consider this partnership a trigger for the other potential development tenants including the Minnesota Wild hockey team to complete their negotiations with us."
Construction on the site could start as soon as this year or into spring 2016, Collins said. The Port Authority expects to have tenants in place in 2017.