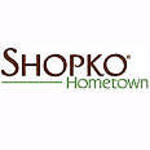 New site eyed for proposed Shopko Store in Cherokee
Friday, November 28, 2014
By Paul Struck, Editor
Cherokee will have a Shopko Store in a new, free-standing building on North Second Street opening in the fall of 2015, the store developer confirmed to the Chronicle Times this week.
Negotiations and evaluations continue between Shopko and developer Oppidan of Minnetonka, Minn., according to spokesman Tom Ryan of Oppidan.
"We are still planning on bringing a Shopko Hometown to Cherokee, Iowa," said Ryan in an email response Tuesday. "We have decided to move away from the Harley-Davidson building and build a new store on a vacant lot just to the north. If all goes smoothly with the city and county, who both have been great to work with thus far (Don Eikmeier and Mark Buschkamp of Cherokee Area Economic Development Corporation), we anticipate a spring construction start and a store opening in the fall.
"As far as we are concerned, it's full speed ahead in Cherokee!"
It was announced in July that Oppidan had purchased the former Harley-Davidson building on North Second Street and planned to retrofit the building and lease it to Shopko. The Shopko Store would utilize 39,000 square feet of retail space in the 48,000 square foot building and be open for business in Cherokee in Spring 2015.
Working with the city, CAEDC and Cherokee Industrial Corporation (CIC), Oppidan had been granted a zoning variance to create additional parking, a Tax Increment Finance (TIF) District and establishment of an Urban Renewal Area specific to the proposed property, and other municipal considerations to accommodate the agreed upon tax rebate incentive process.
The August 2014 agreement, in part, provided that Oppidan would receive tax rebates on property taxes paid on approximately $1.3 million of improvements, and to be made over a 10-year gradually decreasing basis.
The Harley-Davidson property was valued at $900,000, and Oppidan had planned to spend $1.3 million in retrofitting the facility, totaling a $2.2 million investment in all, according to Oppidan.
Costs associated with a new building now under consideration and actual size of the new building are yet to be determined.
Brad's Tire Service, which is currently located in the H-D building, will relocate, and they are in the process of constructing a new building across the street (North Second Street) to house the business, which will once again leave the substantial Harley-Davidson building vacant.