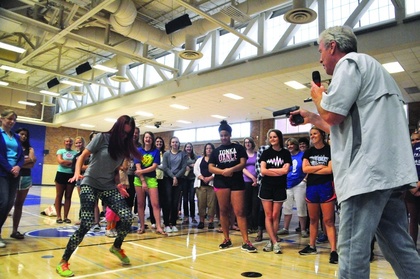 Minnetonka High holds women's self-defense course
There's more than academic preparation required to be successful in college. Thus, Minnetonka High School held its first-ever women's self-defense course July 20.
The event was held at Minnetonka High School and enrolled more than 150 women. The class was attended by Minnetonka High School mothers and daughters.
Minnetonka High School mother Colleen Fischer and daughter Abby, who will be attending college in the fall, said, "We came because I want my daughter to be safe at college."
The "Not Me!" course provided an instructional overview featuring statistics, personal stories and self-defense demonstrations.
"We get so many of these stories start with, 'when I was in college,'" said instructor Karla Rapp, who herself experienced sexual assault in college. "It feels good to teach these women how to stop and prevent these incidents."
Statistically one in four women have or will be assaulted at some point in their lives. Eighty percent of assaults are at the hands of someone the women know. More than 90 percent of attacks involve alcohol or drugs.
The most dangerous time for women is between the ages of 14 and 30.
The program "Not Me!" is taught and was developed by former U.S. Navy Seal Al Horner and Rapp. Horner began teaching after a friend asked him to teach his daughter self-defense in preparation for college.
Horner said that their mission is to "prevent attacks and save lives."
The training is based on Horner's book "Not Me!" that provides information and tools to avoid potentially dangerous situations. The hands-on training also teaches girls to escape from situations that cannot be avoided.
Some of the self-defense moves that were taught include biting, screaming, eye-gouging and various types of kicks and punches that attack key areas on a attacker's body.
One key thing for women is using gut instinct or "creep meter" to avoid dangerous incidents.
Various types of situations were explored such as being attacked from behind, the front or at gunpoint.
Horner and Rapp also taught the mothers and young women how to avoid potential assault situations. For example, never allowing someone to isolate you at a college party or where to park your car in a lot.
The "Not Me!" course is an intense class, with real-world language and situations and is highly regarded by companies and schools across Minnesota and the United States. "Not Me!" has been taught at General Mills, Medtronic, Wells Fargo and a number of private schools. The course has been taught to more than 13,000 mothers and young women, said Horner.
This was the first time the course was available at a public school.
Parent Heidi Nauman attended the course at Blake School and fought to bring it to Minnetonka High School.
"I took the class, and I knew I wanted my daughter and everyone else's daughter to take it," said Nauman. "We need to give our kids the knowledge and skills to be prepared for college in all aspects."
Nauman petitioned Minnetonka High School principal Jeff Erickson to sponsor the course, and he pledged his support. Tonka CARES also worked with Nauman. Tonka CARES is a prevention-focused coalition made up those whose mission is to reduce underage substance use in the Minnetonka School District community.
"This class taught me that you are stronger than you realize," said mother Kris Onderci.
Horner's book and various types of weapons such as pepper spray and batons were for sale after the class.
Another "Not Me!" course is being held at Minnetonka High School July 30.
Both the July 20 and July 30 were paid for by Oppidan Investment Co. thanks to the work of Chief Executive Officer Joe Ryan and his daughter Kelly Allman, who took the course many years ago. Horner has been a family friend.
"The class was really helpful in giving me the tools to stay safe in college," said Allman. She graduated from the College of Saint Benedicts in 2002.
"This class is an important opportunity to give women the tools to defend themselves," said Ryan. "To see the confidence it gave Kelly was wonderful. We have introduced it to family, friends and employees at Oppidan."
Ryan and Allman said Oppidan will be donating funds to have the "Not Me!" course at Minnetonka High School in the future.

Info: notmetraining.com
Contact Paige Kieffer at paige.kieffer@ecm-inc.com