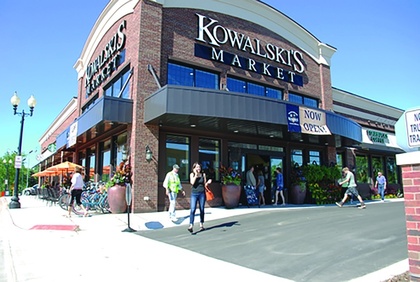 Kowalski's Market Opens in Excelsior
Thursday, August 13, 2015
Hundreds turned out for the grand opening of Excelsior's newest grocery store, Kowalski's Market and Wine Shop on July 29.
The 10th Kowalski's store, it is the first to debut the company's small store plan.
"This store is a different kind of store for us because it is smaller, but it turned out amazing," said store-manager Max Maddaus.
The store has an extensive selection of fine-crafted cheeses, meats, seafood and produce. Kowalski's is offering a wide assortment of specialty, artisan, gourmet and private label products as well as local, organic and healthful foods, particularly naturally raised meats.
"This store emphasizes what we are good at, which is perishables," said Deb Kowalski, who works in media relations. "For being such a small store, the variety is incredible."
The Excelsior store is equipped with amenities that have not been seen at any other location. This includes expanded sushi offerings, made to order pasta bar, chef-crafted full-service meats, a bakery service counter and a wine shop.
"Kowalski's is where customers can get their fine products," said Bob Kowalski, real estate developer for the owners.
The store also has an impressive lineup of Grab and Go foods including freshly prepared sandwiches, salads, soups, dips and sushi.
The Excelsior market also includes a floral and gift shop with a in-store Starbucks and café-style seating.
People at the opening raved about Kowalski's, praising their variety and fresh food. Excelsior resident Sue Craig was thrilled with their vegan meat options while Tonka Bay resident Natalie Webster enjoyed the selection of seafood and meats.
"I've been back there everyday since they opened. There was amazing service throughout the store," said Webster. "At the checkout the computer froze. A couple of employees quickly came to the rescue of the cashier.
The manager said to give us our groceries and apologized for the wait, which was minimal. Count me a new customer and huge fan of the store."
The Excelsior Kowalski's building is located on the lot where the old Masons Motors car dealership was located.
It will be the first grocery stores in downtown Excelsior since the 1980s, while its competitor Cub Foods is located on Hwy. 7.
The construction was originally slated to begin in March 2014 but was moved to July due to design changes and overall expansion. The market was originally supposed to be 15,000 square-feet but changed to 18,000 square-feet.
The development also includes an adjacent 20,000 square-foot retail and office building.
The building's upper level will include project developer Oppidan Investment Co. corporate offices.
The street level will be Miyabi Japanese and Asian Bistro and M the Art of Hair salon.
There was local concern from residents that the grocery would cause unnecessary traffic and parking congestion in Excelsior.
Deb Kowalski said that Mount Calvary Lutheran Church offered to allow Kowalski's to use its lot as overflow when services were not in session.
"Parking is always are number one concern," said Bob Kowalski. "We make sure we fit into the community,"
He also pointed out that less of the parking lot would be used the adjacent building allowing for more spaces for customers.
South Lake Police assisted with traffic flow at the well-attended grand opening.
Jim and Mary Anne Kowalski opened their first store in 1983 in St. Paul on Grand Avenue.
The company is locally owned and operated by Mary Anne Kowalski and Kris Kowalski Christiansen.
In addition to the Excelsior location, other neighborhood markets are located in St. Paul, White Bear Lake, Eden Prairie, Woodbury, Eagan, Oak Park Heights and three stores in Minneapolis.
The store will host its annual Local Vendors Event 11 a.m. to 4 p.m. Saturday, Aug. 8.
Info: kowalskis.com
Contact Paige Kieffer at paige.kieffer@ecm-inc.com