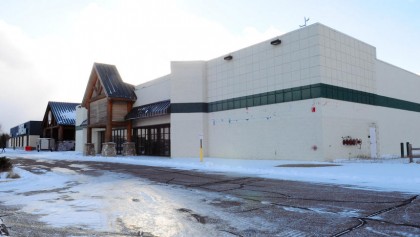 Oppidan Purchases Former Wal-Mart Site in Baxter
Thursday, November 20, 2014
Oppidan purchases former Wal-Mart site in Baxter
By Renee Richardson Today at 9:49 a.m.
Redevelopment plans are in the works for the former Wal-Mart site in Baxter.
The announcement came from Oppidan Investment Co., a national property development firm based in Minneapolis.
Oppidan purchased the former Wal-Mart site, where the Gander Mountain is just off Highway 371 near Taco Bell and plans to create "a regional power center" there as soon as possible.
"The 117,000-square foot site is currently leased by Gander Mountain, whose lease will expire in the very near term," Oppidan reported, adding it has "already initiated talks with nearly one dozen prospective retail tenants who are interested in leasing space in the new center, including grocers, hard and soft line retailers, sporting goods retailers, pet stores, and restaurants. Gander Mountain's interest is not yet clear."
More than one deal to redevelop the site with such retailers as Michaels craft store and Petco fell through previously when the site was still owned by Wal-Mart.
"For years, developers, including Oppidan, have had their eye on this property and have seen the potential for a multi-tenant retail center," said Paul Tucci, a developer with Oppidan in a news release. "With the amount of time left on Gander's lease, the time was right to acquire this premier property and begin planning for its future. We look forward to moving ahead with our redevelopment plans."
In its decision-making, Oppidan pointed to tremendous growth in the Brainerd and Baxter area noting the addition of Costco along with existing and new retailers and restaurants in the vicinity.
The former Wal-Mart site included Gander Mountain and formerly included Ashley Furniture store, which has now been vacant for years. The property stretches from Gander Mountain out to the service drive near Highway 371. In recent years, the parking lot has been in rougher shape. Previous redevelopment plans included two spots for restaurants just off Edgewood Drive.
"From what I'm hearing today this is very good news," said Baxter Mayor Darrel Olson, noting part of the property has been empty for quite some time. "We've been anticipating someone going into that site."
Olson noted it's been a prime spot for redevelopment in the city. The site is near the heart of development, the intersection of highways 210 and 371.
"It's a great location," Olson said. "Whoever goes in there will do well."
Two names that have come up as interested in expansions here recently have included Five Guys and Panda Express. Olson noted the city was aware the title of ownership was being transferred but has not seen any development plans for the site yet. But Olson said the redevelopment comes with an upside of bringing in more employment opportunities.
Oppidan reports since its founding in 1991, it has successfully developed more than 300 projects spanning more than 9.5 million-square feet with a total value of more than $1.775 billion. Oppidan's client list includes CARBO Ceramics, Coborn's, GE, Goodwill, Orchard Supply Hardware, Pioneer Energy, Shopko.