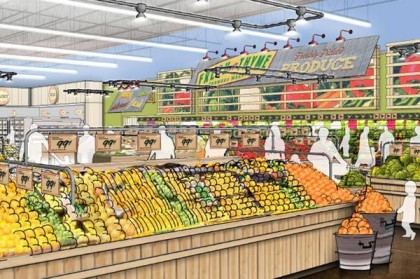 Fresh Thyme grocery works with developer for St. Louis Park store
Staff reporter-Minneapolis / St. Paul Business Journal
Fresh Thyme Farmers Market has a third Minnesota store in the works, targeting a potential location in St. Louis Park withOppidan Investment Co.
The Illinois-based grocer is interested in a new mixed-use development Oppidan is planning for 4900 Excelsior Boulevard, confirmed Paul Tucci, Oppidan's vice president of development.
Fresh Thyme would be the largest tenant in the development, taking up a majority of the 32,000 square feet of retail space on the bottom floor.
The four-story building will also have 180 market-rate rental units. Tucci said Oppidan will submit a development application to the city of St. Louis Park in the next few weeks. Construction will most likely begin next year.
The site is presently home to a defunct Bally's Fitness. Tucci declined to give further information, as the grocer has not yet signed a lease with Oppidan.
If the deal goes through, Fresh Thyme's new store would be less than a mile from aTrader Joe's and a Byerly's.
Fresh Thyme officials could not be reached for comment.
In August 2013, the company confirmed that it had plans to enter the Minneapolis/St. Paul market. At the time, Fresh Thyme CEO Chris Sherrell told the Business Journal that he hoped to build eight to 10 stores in the state.
Fresh Thyme's first Minnesota location is slated for the Penn American District in Bloomington, near the junction of interstates 494 and 35W. The Bloomington store is set to open in 2015. A second is going into a new development at St. Paul's Sibley Plaza.
Fresh Thyme focuses on fresh, affordable produce. It was founded in 2012 by several former Sunflower Farmers Markets executives, who left that company after it was acquired by Phoenix-based Sprouts Farmers Market.
Clare Kennedy writes about food and drink.