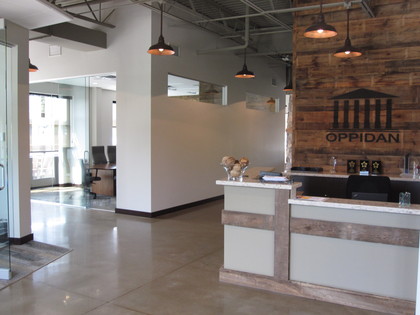 Cool Offices: Oppidan builds new HQ in Excelsior
Tuesday, September 15, 2015
After many years in Minnetonka, Oppidan Investment Co. is now officially installed in its brand-new downtown Excelsior headquarters.
The company occupies the second floor of the new mixed-used building at 400 Water St., which is twinned with a new Kowalski's grocery store across the parking lot. Japanese restaurant Miyabi is on the first floor and a hair salon will soon move in.
Repurposed barn wood, polished concrete floors and glass walls accent the 10,000-square-foot headquarters. The office includes a fitness center with showers, a fireplace, a kitchen and a 1,000-square-foot deck overlooking Excelsior's downtown.
"It's got a bright, rustic feeling with a lot of modern features," Office Manager Michelle Riedel said.
The company began construction on the building in September 2014 and moved into the space in July.
Savage-based Fendler Patterson Construction was the general contractor, while the Landschute Group of Excelsior was the architect. Minneapolis-based Fluid Interiors helped select furniture while BDH + Young of Edina assisted with the interior design of the office.
Oppidan is a property development company founded in 1991. It has 26 employees: 21 in Excelsior and five in San Jose, Calif.