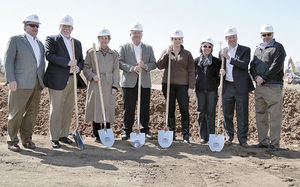 Construction Officially Underway for Cub Foods in White Bear Lake
Wednesday, April 29, 2015
WHITE BEAR LAKE — Both company bigwigs and city officials were on hand April 22 for the White Bear Marketplace groundbreaking.
Cub Foods President Mike Stigers said a few words before picking up a shovel at the former Kmart site. He thanked the city for "having us here" and told those attending that the new supermarket on White Bear Avenue will be one of the largest stores to date, with expanded departments in baby, pet, organic and natural foods and fresh produce. The adjoining Cub liquor store will also be the largest in the area, he said.
Oppidan Investment Co. CEO Joe Ryan and Paul Tucci, vice president of development, attended the ceremony but let developer Drew Johnson address the group. "Negotiations with the out-of-town developer (a New York capital investment group) were touch and go for awhile," Johnson said. "When we first visited with the city, they took us at our word that we had to move very fast on something that was sitting for four years." The company appreciated city staff's hard work at expediting the project, he noted. Cub's parent, SuperValu, hopes to open its latest store in early November.
Minnetonka-based Oppidan closed on the vacant property March 9 for a reported purchase price of $7 million. The new retail center includes 106,000 square feet of space on almost 13 acres. The new Cub Foods will anchor the facility with a Planet Fitness on one end and, more than likely, a Northern Tool on the other.
White Bear's Planning Commission approved an application for an 18,000-square-foot Northern Tool at its April 20 meeting. The City Council will be next in the approval process.
Stormwater management was part of the planning process and something the developers were interested in improving. Ramsey Washington Metro Watershed District Inspector Nicole Soderholm told attendees the White Bear Marketplace project easily complied with the watershed's best management practices.
"The developers went above and beyond our requirements by installing additional management practices on site," Soderholm said. "This property drains to a series of wetlands, which flow to Willow and, eventually, Kohlman Creek. That creek is on the impaired list for water quality so it's a high-priority area in terms of improvements."
The watershed's management board was "thrilled" to see the stormwater site improvements and approved $100,000 in funding as part of its cost share program, Soderholm added. The project will include six filtration basins to reduce the volume of polluted stormwater leaving the site.
Mayor Jo Emerson credited staff for "doing the heavy lifting."
"The council got the pleasure of approving the project," Emerson said. "We're thrilled to have Marketplace opening and excited to see this property redeveloped. Our city is in redevelopment mode. We're pretty full, so it's exciting to get a project like this. We'll see you at the ribbon-cutting."