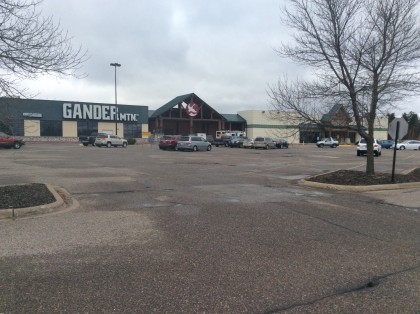 385 Edgewood Drive, Baxter
Thursday, November 20, 2014
385 Edgewood Drive, Baxter
By: Anne Bretts November 20, 2014 7:05 am

Minnetonka-based Oppidan Investment Co. has acquireda former Wal-Mart store now operating as a Gander Mountain retail location in Baxter, with plans to redevelop the site again into a multi-tenant building with additional outlot stores or restaurants.
KTJ 243 LLC, an Oppidan entity, closed on the $3.7 million deal July 29, according to a certificate of real estate value made public Nov. 13. The store, located at 385 Edgewood Drive, lies near the intersection of Highways 371 and 210. The sellers included Golf Course LP, Bridgewater LP and Riverdale LP, all of Oak Brook, Illinois. The price for the 117,000-square-foot store works out to $31.62 per square foot. Oppidan put no money down and secured a new mortgage.
The St. Paul-based sporting goods company still has two years left on its lease, but Oppidan officials say they've already seen interest from at least a dozen potential tenants.
"For years, developers, including Oppidan, have had their eye on this property and have seen the potential for a multi-tenant retail center," said Paul Tucci, a developer with Oppidan. "With the amount of time left on Gander's lease, the time was right to acquire this premier property and begin planning for its future. We look forward to moving ahead with our redevelopment plans."